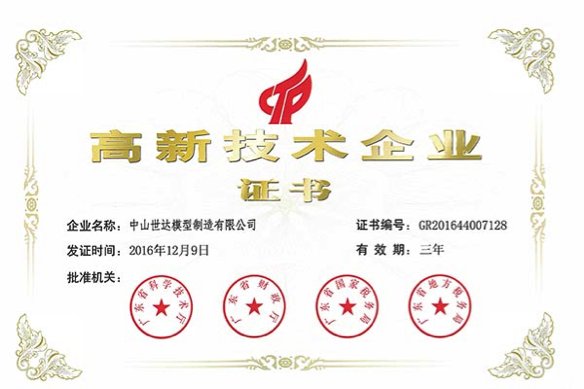 In January of 2016, the government of China announced new rules concerning the issuance of special tax status for those enterprises engaged in high technology research and development. The High and New Technology Certificate is an incentive program backed by the central authority to strengthen China's competitive advantage and promote innovation in key sectors such as energy, medical, aerospace, telecommunications and manufacturing.
Star Rapid was recently granted this special license after a full audit and review by inspectors from the provincial tax bureau. Favorable tax status is granted to enterprises which can demonstrate a commitment of resources and personnel to ongoing research and development within their sector, while also implementing a strategy for transforming intellectual property into products and services, among other core requirements.
Star continues to push forward in developing unique process control technologies to further enhance our quality and efficiency while reducing overhead and production lead times. These are just some of the ways we are always striving to be better than the rest. Would you like to know more? Contact us today for a free project review and competitive quotation.