Manufacturing and Shipping Your Parts Worldwide
We are open and ready to support you
Star Rapid is in full production. Our sales and engineering staff is standing by when you need parts and assemblies fast. We are commited to providing you with rapid prototyping, rapid manufacturing and volume production services during this unprecedented time.
In addition to our complete range of low-volume manufacturing solutions, we offer free design reviews for all incoming quotations as well as light assembly work for your components.
We also further understand that many of our customers are not able to travel now in order to inspect their products in person. Therefore we can provide video records of all critical phases of production, from incoming material verification to final testing, packaging and shipment.
We will continue to present updated information to our valued customers to help you stay informed during this challenging time.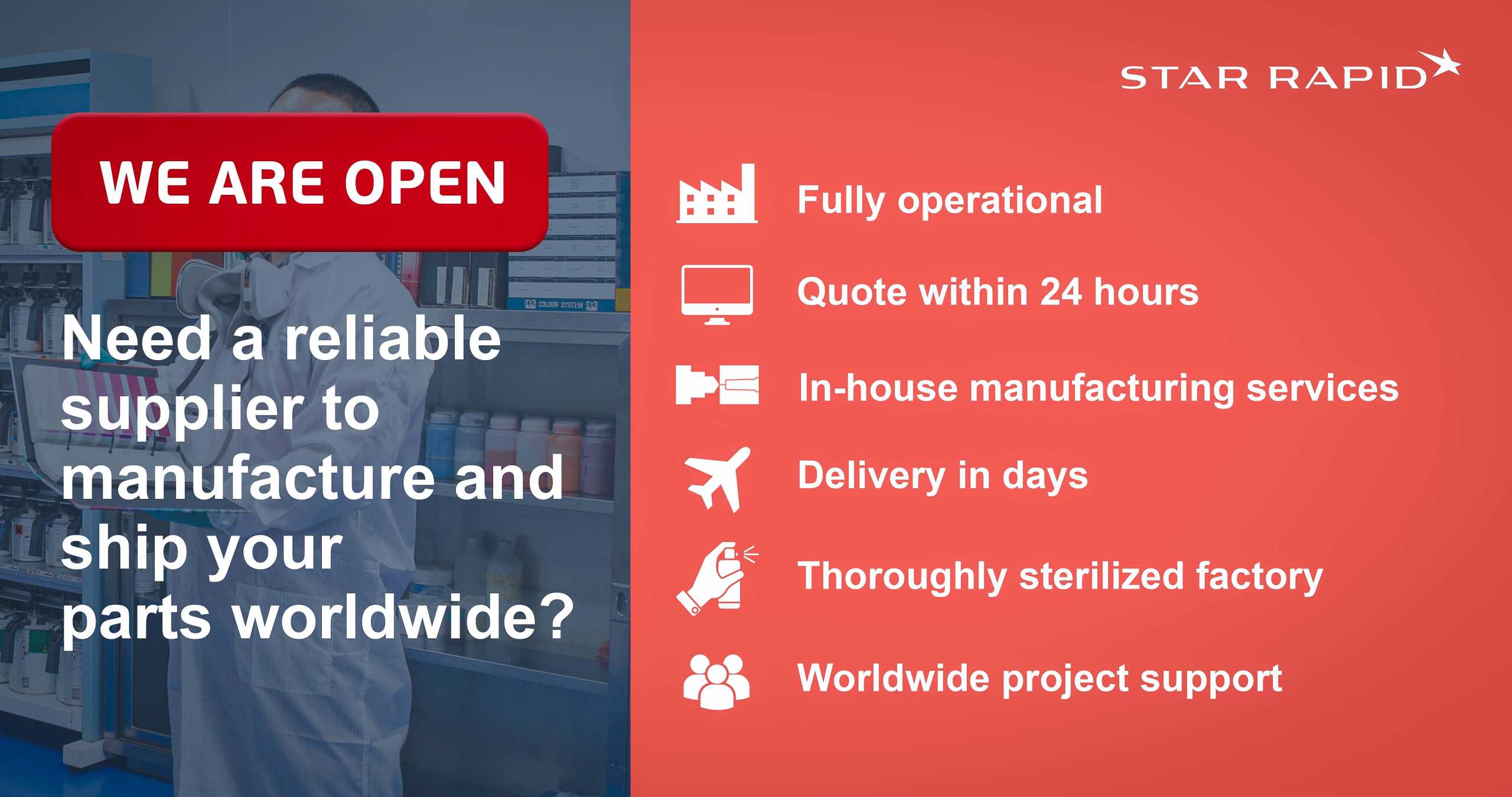 6 Steps To Prevent CONVID-19 Infections 
We've made this video which highlights the 6 steps we take every day to safeguard the health of our workforce and the larger community. Watch it to protect you and your company. 
Companies around the world are preparing to re-open and get back to work. In order to do so safely, we'd like to remind everyone to use good sense and employ best practices in your own offices and workshops. By using these steps we've been able to completely avoid any infection among our staff. In it, you will learn the importance of:
Daily health checks

Social distancing

Personal cleanliness

No contact

Disinfection

Eating and smoking rules
Frequently Asked Questions
Q: Are international sea shipments being held up because of the virus?
A: At this time we know of no restrictions. However it is best to check with the relevant authorities on a regular basis. Here are links to further information:
General Administration of Customs, People's Republic of China
Q: What about international air shipments?
A: Major private shipping companies, such as DHL, FedEx and UPS are in full operation since they act as a critical link in the global supply chain, ensuring that vital supplies arrive quickly where they are most needed. However, there may be specific regions that are adversely affected and so we recommend checking in advance.
Q: Can you ship from China? What is the status of shipments from Star Rapid? 
A: Yes, we can. The majority of goods are shipped via express carriers such as DHL, Fedex, and UPS. All of these companies are in full operation in China. Different carriers may have different size/weight limitations based on flight availability and destination port. However, our logistics team is working closely with them to make sure every shipment meets their requirements.
Q: Are there are any special documents required for shipping during this time? 
A: No, there are no special requirements for documentation or bureaucratic administration at this time.
Q: How long will it take to ship parts to my destination? 
A: Ocean shipments typically take up to three~four weeks from China to North America, while shipments to Europe can be one month or more.  Air shipments depend on several variables, including the level of service (normal air freight is slower than Express) and the port of destination. Express shipments leave every business day and arrive to their destination within 5 to 7 days.
Normal air freight may be delayed on the ground for several days before embarking. If you are in a hurry for your parts, we recommend using the fastest Priority delivery. Even upon arrival to the port you will need to rely on ground transport to the final destination.
Also your goods may be held up in customs, especially if the wrong HS code is used. It is therefore important to do this correctly, and we can help.
Finally, during this unstable time there may be unforseeable changes to flight schedules and customs regulations. We will always endeavor to give you the most up-to-date information on a daily basis. Please consult the links above for more specific information.
Q: How do you protect the health of your staff?
A: All personnel are temperature screened each day as per government regulations. We wear protective face masks and practice physical separation during meal times.
Q: What other safety precautions do you have?
A: Our factory, offices and dormitories are cleaned each day and sterilized every other day. Hand sanitizers are available at multiple stations throughout the workplace and in the restrooms. Entry points into the facilities are strictly monitored.
Q: Do you have any local cases of Covid-19 infection? 
A: No, there are no known local infections at this time, either at the factory or in the larger community. In fact, all of Guandong Province has been declared free of any domestic instances of the disease. Currently, all entry into China is strictly controlled to ensure there are no further outbreaks.
Q: Are health protocols being relaxed in China? 
A: Restrictions are slowly being eased in most areas and life is returning to normal, especially in those places least affected by the outbreak.
Q: Is it possible to get an infection from a shipment from China? 
A: According to the World Health Organization (WHO) and the Centers for Disease Control (CDC) in the United States, it is highly unlikely that the disease can be transmitted on any package from an overseas delivery, and there are no reported cases of this happening.
Q: What is the best way to stay safe during this outbreak?
A: As recommended by all major international health and medical organizations, the most effective things to do are to practice social distancing and good hygiene, especially hand washing. We recognize that isolation for a period of time can be difficult and inconvenient, but there are many ways to stay fit, entertained and engaged with the larger community.
Q: How can I inspect my products if travel is restricted?
A: We can provide video records of all critical phases of production, from incoming material verification to final testing, packaging and shipment. We also have sales and engineering team members in your region who can discuss your project and provide you with updates.
Q: Do you expect any delays in production or shipment?
A: We are in full operation now as are our supply chain partners. Production is scheduled based on the agreed upon shipping dates and we expect no delays because of the virus situation.
Transportation times vary depending on shipping method, destination and the status of local logistics which we cannot control. Star Rapid ships most parcels via air express, in which case we will send to you the relevant tracking information. We work closely with the express carriers and will notify you immediately in the case of any delays. For more information please check the "International Logistics" tab.
Q: As a new customer, how can I verify Star Rapid as a qualified supplier without auditing in person?
A: Star Rapid is fully certified and compliant with ISO 9001:2015, ISO 14001:2015 and BS OHSAS 18001: 2001. We are also recognized as a High and New Technology Enterprise and have more than 30 patents related to manufacturing. We use only the most modern management practices and have earned the trust of many of the world's largest technology companies. More relevant information about our abillity to support you can be found here.
Q: Do you have any problems purchasing the material to make my parts?
 A: At Star Rapid, we recommend you choose common or generic materials whenever possible, both to save money and to ensure an adequate supply. Here you will find our material list for CNC Machining, Plastic Injection Molding, Vacuum Casting, and Metal 3D Printing. For these materials, we have a stable and reliable supply chain.
If you need an imported material, we will contact the local Chinese supplier to purchase but this may delay the processing of your order.
Prototypes and Parts Delivered Quickly with Three Simple Steps
Step One
Upload Project Designs 
Upload your designs files & tell us important details about your project.
Step Two
Confirm Quote + Production
Once you accept our quote, begin working with our team to make your ideas a reality.
Step Three
Receive Your Parts
Your custom manufactured parts are delivered straight to your doorstep.