Manufacturing and Shipping Your Parts Worldwide
We are open and ready to support you
Star Rapid is in full production. Our sales and engineering staff is standing by when you need parts and assemblies fast. We are commited to providing you with rapid prototyping, rapid manufacturing and volume production services during this unprecedented time.
In addition to our complete range of low-volume manufacturing solutions, we offer free design reviews for all incoming quotations as well as light assembly work for your components.
We also further understand that many of our customers are not able to travel now in order to inspect their products in person. Therefore we can provide video records of all critical phases of production, from incoming material verification to final testing, packaging and shipment.
We will continue to present updated information to our valued customers to help you stay informed during this challenging time.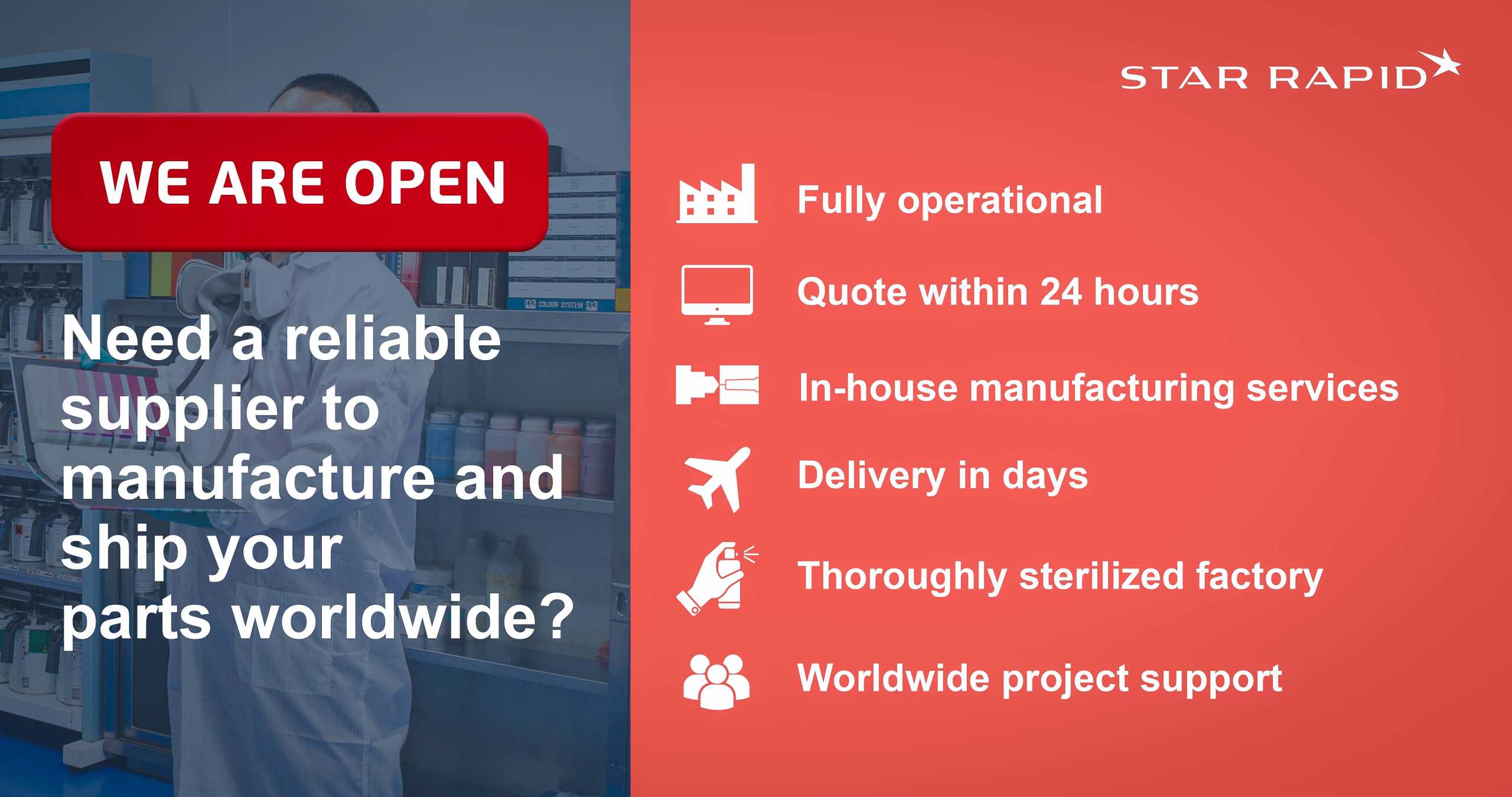 A Note To All of Our Customers
There is renewed concern about the potential impact of the Delta variant of the Covid-19 virus in China, both on human health and as it relates to normal business operations.
We want to assure all of our customers that Star Rapid's operations remain completely unaffected and we are continuing to serve are clients exactly as before. The local and national authorities are closely monitoring any new developments and are taking very disciplined measures to track and isolate any new cases, of which so far there are very few throughout the country.
We will promptly inform you if there is any change to the situation that in any way might impact our ability to serve your needs. Wishing you all good health.
Prototypes and Parts Delivered Quickly with Three Simple Steps
Step One
Upload Project Designs 
Upload your designs files & tell us important details about your project.
Step Two
Confirm Quote + Production
Once you accept our quote, begin working with our team to make your ideas a reality.
Step Three
Receive Your Parts
Your custom manufactured parts are delivered straight to your doorstep.