We've recently added to our capacity to make larger volumes of plastic injection molded parts with the addition of a new fully computerized robotic arm assistant. The Redstone 900 from Alfa Robot lets us quickly and accurately remove finished parts from the injection mold as soon as they're finished, and delivers those parts to a conveyor system for inspection, cleaning and packaging.
What's Cool About The Redstone?
First, it's a fully programmable CNC machine. The robot arms have individual servo motors on each axis, and they're repeatable and reliable to +/- 0.15mm in every direction. It's quiet and can be set to match any production speed our injection molding machines are capable of.
We love it because once the process control parameters to make a given part have been established and are stabilized, the fastest and most economical way to make larger volumes of parts is to automate as many functions as possible. Doing this removes the possibility of worker fatigue and injury, while ensuring that the robotic arm moves at a constant speed for maximum efficiency and cost reduction.
Why Should You Care?
As part of our vision to provide a rapid service to all our customers we're investing heavily in more machines and robotics. The more we invest in advanced equipment, the faster we can have you opening a box of beautiful, high-quality parts. And with this automation, along with our location in China, we can deliver quickly and at the lowest cost.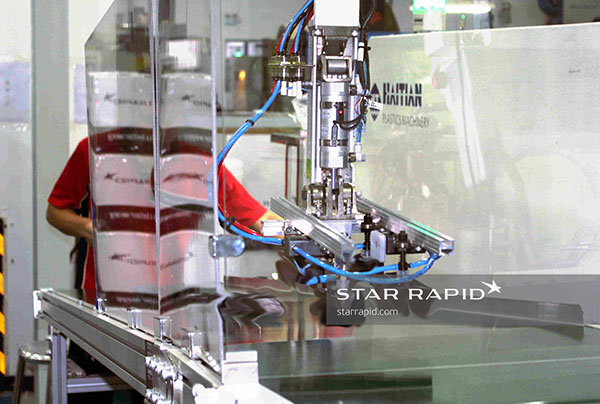 Focusing On What's Important
Our ongoing investment in new technologies also means that our team continues to increase their efficiency. With fewer repetitive motion tasks, our skilled technicians have more time to do the jobs that robots can't do, like carefully inspect and measure parts, which improves product quality and consistency.
Investing in new and better technology is just one of the ways we strive to remain your manufacturing partner of choice for prototyping and low-volume production. Find out more when you contact us for a free quotation.