At Star Rapid, we like to do things differently – constantly finding new ways to refine and speed up our manufacturing processes.
We like to challenge the status quo and seek to find a better way. We don't like to do things just because it's what is usually done; we like to strive towards reaching our full potential. Individually, within teams and as a company. Our customers share that trait. Together we're always looking for a way to improve our world.
At Star Rapid, we love to think outside the box. We embrace traditional solutions to problems, but thrive when we are able to innovate and can challenge the manufacturing status quo. We always innovate with our customer in mind. Our aim is always to realize our customer's vision and we do that with a team of qualified engineers and project managers that always have your best interest at heart.
At the heart of our disruptive behavior is our staff. Highly-skilled, diligent, and meticulous. At Star Rapid, we take precision to another level, striving to provide a customized experience for every customer while achieving results that go beyond expectations. At the heart of all this sits a company spirit engrained in each employee. The essence really is to continue to look for a new and better way. This shows even in the details.
At Star, staff enjoy a free nutritious breakfast, lunch and dinner every day and fruit each afternoon. How can we find a better way if we haven't had the right nutrition? We have regular team dinners, sports events and training sessions, all in the interest in building up our teams to be the best they can be. And this starts with our community.
At Star Rapid we always put people first: from employees, to contractors, consultants and, of course, our inspirational customers. Every job is unique and so is every customer. Every day we help our customers create something for the first time. This constant innovation is what we all love. Our customers have big dreams and we are so proud to support them in that journey.
That's why we at Star do our upmost to make each person that does business with us feel like they are part of the Star Family.
One thing our customers enjoy when visiting our facilities, is the chance to learn, first-hand, the details of the prototyping and manufacturing world. They get to see our world-class machines in action, talk to our international team of experts and see our inspection processes and testing equipment. Our customers enjoy this not only because they love to learn new things, just like us, but also because it gives them the extra bit of confidence and support they need when working towards their goals.
At Star Rapid, we strive to be at the forefront of manufacturing through the use of technology, skills and knowledge. Our desire to innovate is only matched by our drive to be cost-effective while never compromising quality.
Star Rapid is where precision meets passion. Where the highest quality rapid prototyping, rapid tooling and low-volume manufacturing is equaled by a personal service.
Learn more about Star's founder and history.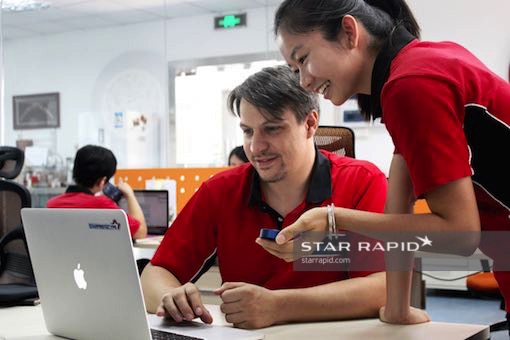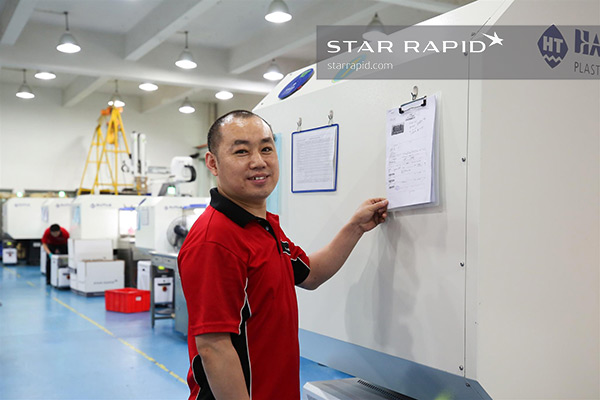 Our Chant
It is very common in China to line up in rows to hear the manager/supervisor read out the goals and objectives for the day. At the end of the meeting it is customary for the employees to chant key slogans. Our team wrote this chant to help us remember the key principles of manufacturing.
How do we become more efficient and satisfy our customers?
如何提高效率,让客人满意?
Rúhé tígāo xiàolǜ, ràng kèrén mǎnyì?
Saving money just to save money often creates cost elsewhere.
一不盲目省钱,二不浪费资源
Yī bù mángmù shěng qián, èr bù làngfèi zīyuán
Employ the best people, the best technology and the best materials.
人才技术材料,一定要用最好
Réncái jìshù cáiliào, yīdìng yào yòng zuì hǎo
Plan, plan, plan; team, team, team.
事事计划为先,处处合作无间
Shì shì jìhuà wèi xiān, chùchù hézuò wújiàn
Get it right, first time, every time.
做好第一次,做好每一次
Zuò hǎo dì yīcì, zuò hǎo měi yī cì
Do what you said you would do, that's the Star Rapid way.
说到做到,世达之道
Shuō dào zuò dào, shì dá zhī dào
(The Chinese is not a direct translation of the English, but carries the same meaning. The idea was to make it rhyme. Translated by Jiama.)