Vacuum Casting Service
We offer a complete turnkey solution for creating master patterns and cast copies based on your CAD designs. We not only make high-quality molds but we also offer a full line of finishing services including painting, sanding, pad printing and more. We'll help you create parts for showroom quality display models, engineering test samples, crowdfunding campaigns and more.
What Is Vacuum Casting?
Polyurethane vacuum casting is a method for making high quality prototypes or low volumes of parts formed from inexpensive silicone molds. Copies made in this way show great surface detail and fidelity to the original pattern.
Advantages Of Vacuum Casting
Low cost for molds
Molds can be made in a few days
Many types of polyurethane resins are available for casting, including overmolding
Cast copies are highly accurate with excellent surface texture
Molds are durable for 20 or more copies
Perfect for engineering models, samples, rapid prototypes, bridge to production
Hundreds of casting polymers are commercially available to reproduce any conceivable hardness and surface texture. It is also possible to make parts that are fully opaque, translucent or completely transparent depending on your application. See more information on available materials.
Why Choose Star Rapid for Vacuum Casting Services?
When it comes to vacuum casting, there are a number of manufacturers to choose from. Choosing the right one is essential for getting exactly the results you expect. Here are several reasons to choose Star Rapid for your vacuum casting needs.
✓ Exceptional Quality and Speed
Quality shouldn't have to come at the expense of speed, and vice versa. At Star Rapid, we combine our extensive experience with the industry's latest tools and technologies to deliver high-quality vacuum casting services on short timelines (typically in 7 to 14 days).
✓ Finishing Services to Enhance Your Product
Vacuum casting isn't all we do. As your one-stop production shop, we also offer a wide range of complementary finishing services to help your product come to life. Our finishing services include machining, media blasting, printing, painting and more.
✓ Intelligent Quotations for Every Project
Your needs are unique — and you don't want to pay for more than you need. That's why we never require a minimum order volume or minimum dollar value for our vacuum casting services. We also use state-of-the-art AI quotation algorithms for fast, accurate quotes in 24 hours or fewer for nearly all projects.
✓ Design for Manufacturing Support and Remote Flexibility
As vacuum casting is often used for prototyping, we know that many of the products we work on haven't reached their final design. To help them get there, we provide detailed design for manufacturing support to our clients. (We can even make your patterns for you.) We also offer detailed video files showing all production steps for clients who can't visit us in person.
✓ Industry-Leading Material Verification and Testing Services
To ensure exceptional product quality from the get-go, we only use the highest quality resins from the best international brands.
Vacuum Casting Video | Star Rapid
Vacuum Casting Process
There are three steps to making polyurethane vacuum cast parts: making the master pattern, making molds and casting the parts.
Step 1. Master Patterns 
Patterns are 3D solids of your CAD designs. They are usually made by CNC machining or with 3D plastic printing such as SLA/SLS. You can supply your own patterns or we can make them for you. Patterns need to be able to withstand heating to 40°C.
Step 2. Making the Molds
Casting molds are made from liquid silicone. This silicone is poured around the master pattern inside of a casting box, and then allowed to cure in an oven for 16 hours. Once dried, the mold is cut open and the master removed, leaving behind an empty cavity in the exact negative shape of the original.
Step 3. Casting Copies
Your choice of casting resins can now be poured into the empty cavity to create a highly accurate copy of the original. It's even possible to overmold with two or more materials. Silicone molds are typically good for 20 or so copies of the master pattern.
Vacuum Casting Tolerances
The finished dimensions of vacuum cast parts are dependent on the accuracy of the master pattern, the part's geometry and the type of casting material used. Generally a shrinkage rate of 0.15% is to be expected.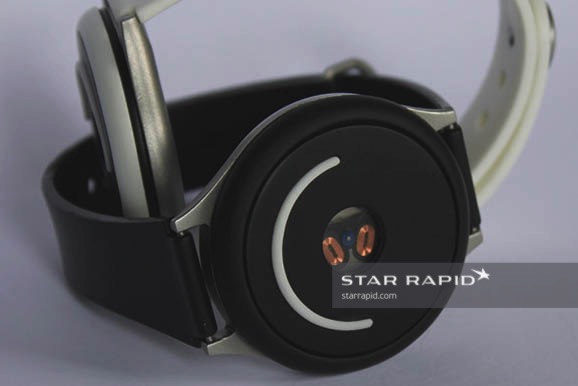 doppel is a small, wearable device that offers a unique way to control the user's mood and performance. Worn like an ordinary watch, doppel induces a series of pulses with adjustable frequencies that affect the brain's perception of heart rate, changing it and, in turn, changing how the user feels. After successful testing, doppel approached our team at Star Rapid to make a series of case and wristband prototypes. We used vacuum casting because it is cost-effective, high-quality and fast. Learn more about how we made these molds in our doppel case study. Read more…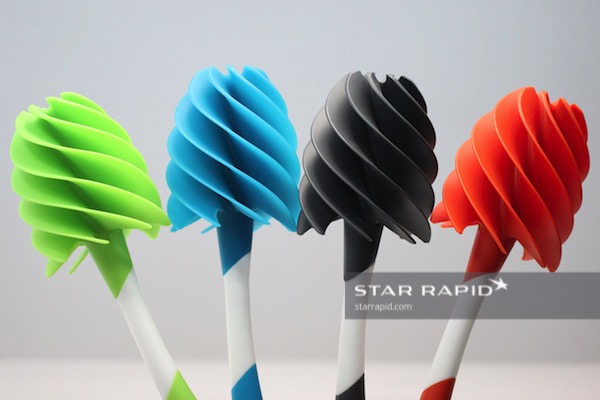 The LooBlade by Duku Design is a re-engineered toilet brush with a host of design features that improve cleaning performance, brush sanitation, and user experience. The LooBlade features an antimicrobial 8-bladed helical head for the brush. Both quicker to dry and more effective at scrubbing toilet surfaces while staying clean, this innovative brush head also presented a unique manufacturing challenge. When LooBlade asked Star Rapid to build a prototype, we used stereolithography (SLA), a 3D printing technology, to draft a master model with three components. We then scanned each component with a FARO 3D laser scanner and placed them in a casting box filled with liquid silicone to create negative images. Finally, we used vacuum casting to create duplicates and build the LooBlade prototypes, carefully inspecting and trimming each part once casting was complete. Read more…
Star Rapid Vacuum Casting Service FAQ
What makes Star Rapid's vacuum casting service unique?
Our vacuum casting service is noted for its exceptional quality and speed. Our skilled technicians combine decades of experience with the latest technologies to produce exceptional prototypes and engineering models quickly. We can also further enhance your parts with a suite of finishing services including machining, media blasting, printing, painting and more.
Can Star Rapid provide design services, industrial design support or product development support as an extension of its vacuum casting services?
Yes. To supplement our vacuum casting services, we offer an expanded service geared for design-for-manufacturing support. While we once reserved this service only for approved orders, we now provide it to all incoming RFQs. We also offer light assembly services to meet your needs.
What are Star Rapid's quality standards for its vacuum casting services?
To ensure the highest standard of quality for all of your finished parts, our team adheres to a strict quality control process. This starts with the verification and testing of all materials. During production, we meticulously control temperature, humidity and other processing conditions to maintain the highest degree of consistency in your parts.
How do I get a quote for Star Rapid's vacuum casting services?
We make it easy to get a fast quotation. Simply upload your CAD files and product details and we'll send you a free quotation within 24 hrs. or less.
Request Your Free Vacuum Casting Quote Today
Our improved algorithm decreases vacuum casting quotation times by up to 90%. Most quotes are delivered within 24 hrs. and usually much less, depending on project details.
Your customer support partner will contact you directly to ensure you've received and understand all aspects of your quotation and to answer any questions you may have.