Vacuum Casting Service
We offer a complete turnkey solution for creating master patterns and cast copies based on your CAD designs. We not only make high-quality molds but we also offer a full line of finishing services including painting, sanding, pad printing and more. We'll help you create parts for showroom quality display models, engineering test samples, crowdfunding campaigns and more.
What Is Vacuum Casting?
Polyurethane vacuum casting is a method for making high quality prototypes or low volumes of parts formed from inexpensive silicone molds. Copies made in this way show great surface detail and fidelity to the original pattern.
Advantages Of Vacuum Casting
Low cost for molds
Molds can be made in a few days
Many types of polyurethane resins are available for casting, including overmolding
Cast copies are highly accurate with excellent surface texture
Molds are durable for 20 or more copies
Perfect for engineering models, samples, rapid prototypes, bridge to production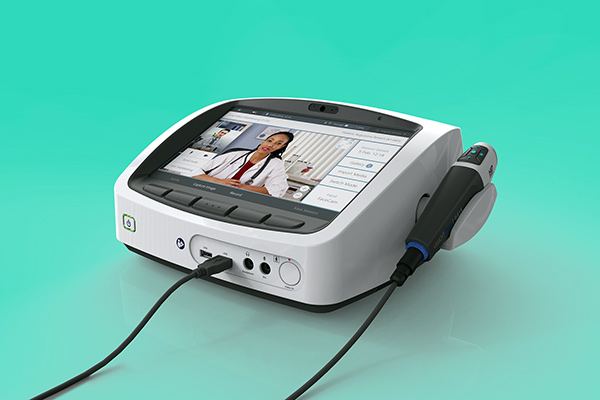 The ProEx Telehealth Hub by Visionflex is a portable medical testing device that enables patients to conduct a series of medical tests from anywhere, without the need for a physician. Small enough to fit into a backpack, the Hub comes with a number of interchangeable probes, sensors and cameras — as well as a large screen for video instructions — to help patients complete a variety of medical tests, including heart rate, blood pressure, spirometry, ECG, ultrasound and more. Containing several advanced technologies, the ProEX needs to be both portable and durable. To get full production-quality rapid prototypes, Visionflex turned to Star Rapid for vacuum casting. Both fast and cost-effective, our vacuum casting process yields high-quality, production-grade results. Learn more about our process in this case study. Read more…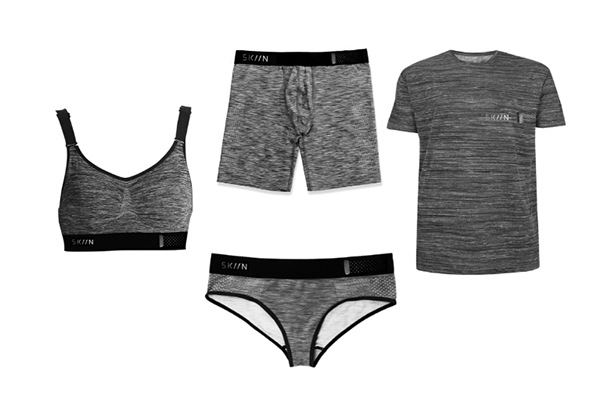 Myant's line of SKIIN clothing contains a number of biosensors that collects and analyzes biometric data, then sends it to the user's smartphone to provide actionable feedback to help the user stay healthy. For optimal comfort and reliable performance, SKIIN clothing sensors needed to be as small as possible—and protected—while still able to collect data and transmit to nearby devices.  With a limited timeframe, Myant turned to our team at Star Rapid to build a showroom-ready housing and docking unit for their sensors. We used SLA 3D printing to make a set of master patterns, which we then used to make copies with polyurethane vacuum casting. Learn more about our process that led to excellent results for Myant in this case study. Read more…
Vacuum Casting Video | Star Rapid
Vacuum Casting Process
There are three steps to making polyurethane vacuum cast parts: making the master pattern, making molds and casting the parts.
Step 1. Master Patterns 
Patterns are 3D solids of your CAD designs. They are usually made by CNC machining or with 3D plastic printing such as SLA/SLS. You can supply your own patterns or we can make them for you. Patterns need to be able to withstand heating to 40°C.
Step 2. Making the Molds
Casting molds are made from liquid silicone. This silicone is poured around the master pattern inside of a casting box, and then allowed to cure in an oven for 16 hours. Once dried, the mold is cut open and the master removed, leaving behind an empty cavity in the exact negative shape of the original.
Step 3. Casting Copies
Your choice of casting resins can now be poured into the empty cavity to create a highly accurate copy of the original. It's even possible to overmold with two or more materials. Silicone molds are typically good for 20 or so copies of the master pattern.
Vacuum Casting Tolerances
The finished dimensions of vacuum cast parts are dependent on the accuracy of the master pattern, the part's geometry and the type of casting material used. Generally a shrinkage rate of 0.15% is to be expected.
Hundreds of casting polymers are commercially available to reproduce any conceivable hardness and surface texture. It is also possible to make parts that are fully opaque, translucent or completely transparent depending on your application. See more information on available materials.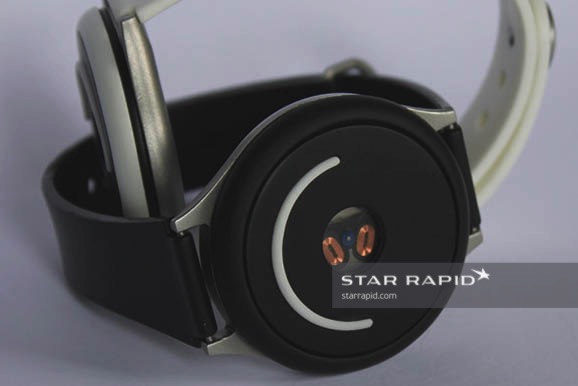 doppel is a small, wearable device that offers a unique way to control the user's mood and performance. Worn like an ordinary watch, doppel induces a series of pulses with adjustable frequencies that affect the brain's perception of heart rate, changing it and, in turn, changing how the user feels. After successful testing, doppel approached our team at Star Rapid to make a series of case and wristband prototypes. We used vacuum casting because it is cost-effective, high-quality and fast. Learn more about how we made these molds in our doppel case study. Read more…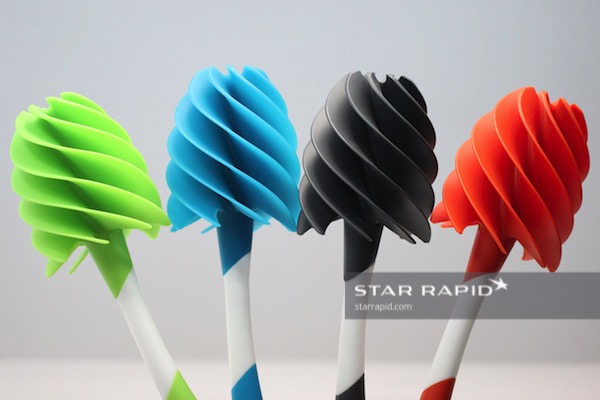 The LooBlade by Duku Design is a re-engineered toilet brush with a host of design features that improve cleaning performance, brush sanitation, and user experience. The LooBlade features an antimicrobial 8-bladed helical head for the brush. Both quicker to dry and more effective at scrubbing toilet surfaces while staying clean, this innovative brush head also presented a unique manufacturing challenge. When LooBlade asked Star Rapid to build a prototype, we used stereolithography (SLA), a 3D printing technology, to draft a master model with three components. We then scanned each component with a FARO 3D laser scanner and placed them in a casting box filled with liquid silicone to create negative images. Finally, we used vacuum casting to create duplicates and build the LooBlade prototypes, carefully inspecting and trimming each part once casting was complete. Read more…