Quality Rapid Prototyping Service
At Star Rapid, we specialize in the production of high-quality, low-cost prototypes. With a range of technologies and services, we are the perfect one-stop-shop for all your rapid prototyping needs. When you're ready, we also provide low-volume manufacturing of 100,000+ parts. Continue reading to learn more about the rapid prototyping process or send your 3D design file to our international team of engineers for a free quote.
What Is Rapid Prototyping?
Rapid prototyping involves specialized manufacturing techniques for making high-quality physical models of a 3D design idea. Prototypes are useful for design improvement, as stepping stones to full production or for engineering testing. They are meant to be quick and economical, without the need for the investment in hard tooling. Many of our clients need to produce a physical part quickly in order to validate a design or to capture a fleeting sales opportunity.
Advantages Of Making A Prototype
How can partnering with Star Rapid to quickly manufacture a prototype help you and your business? Here are just some of the ways:
Show your customers and investors a physical model of your product

Demonstrate the appearance, dimensions and features of your product

Test the market with your product before production

Save time and money by identifying and reducing design flaws

Improve and streamline the production process
Create multiple versions with different colors, surface textures and finishing processes
Why Choose Star Rapid® for Rapid Prototyping?
Prototyping is one of the most important steps in a product's journey from idea to shelf. To get it right, you need to partner with a manufacturer you can count on to make your designs come to life on a timetable that works for you. Here's why our team at Star Rapid is an excellent choice.
✓ Industry-Leading Expertise with an International Presence
Form our upper management to our floor technicians and sales professionals, our team has centuries of combined experience in the manufacturing industry. We can handle rapid prototyping services for organizations worldwide.
✓ Cutting-Edge Equipment
To successfully create high-performing prototypes, our team uses some of the best equipment available today. We've also launched a new ERP system to optimize all aspects of operation.
✓ Intelligent Quotations for Every Project
To help you get the ideal rate for our rapid prototyping services, we never require a minimum order volume or minimum dollar value. Plus, we use state-of-the-art AI quotation algorithms to get you your quote quickly (24 hours or less for nearly all projects).
✓ Reliability and Rapid Completion Times
In rapid prototyping, time is of the essence—however, speed shouldn't compromise quality. Star Rapid gives you the best of both. We have 2- to 48-hour response times on RFQ's 95% of the time, as well as a 90%+ OTD (on-time delivery) against our commitments. To see what our clients think about their prototypes, check out the See Our Past Product section on this page.
✓ Investment in the Right Places
In addition to investing in new technologies, we also invest heavily in our people and process. These resources help ensure that our material verification and prototype testing processes are the best in the business. We're also committed to furthering the knowledge and skills of our in-house team, requiring two hours of training per week for all personnel
Rapid Prototyping & Production Services Video
We are an internationally-recognized leader in offering specialized rapid prototyping and volume production solutions for a range of industries. No matter the volume or complexity, our team of manufacturing professionals is ready to support your product development goals.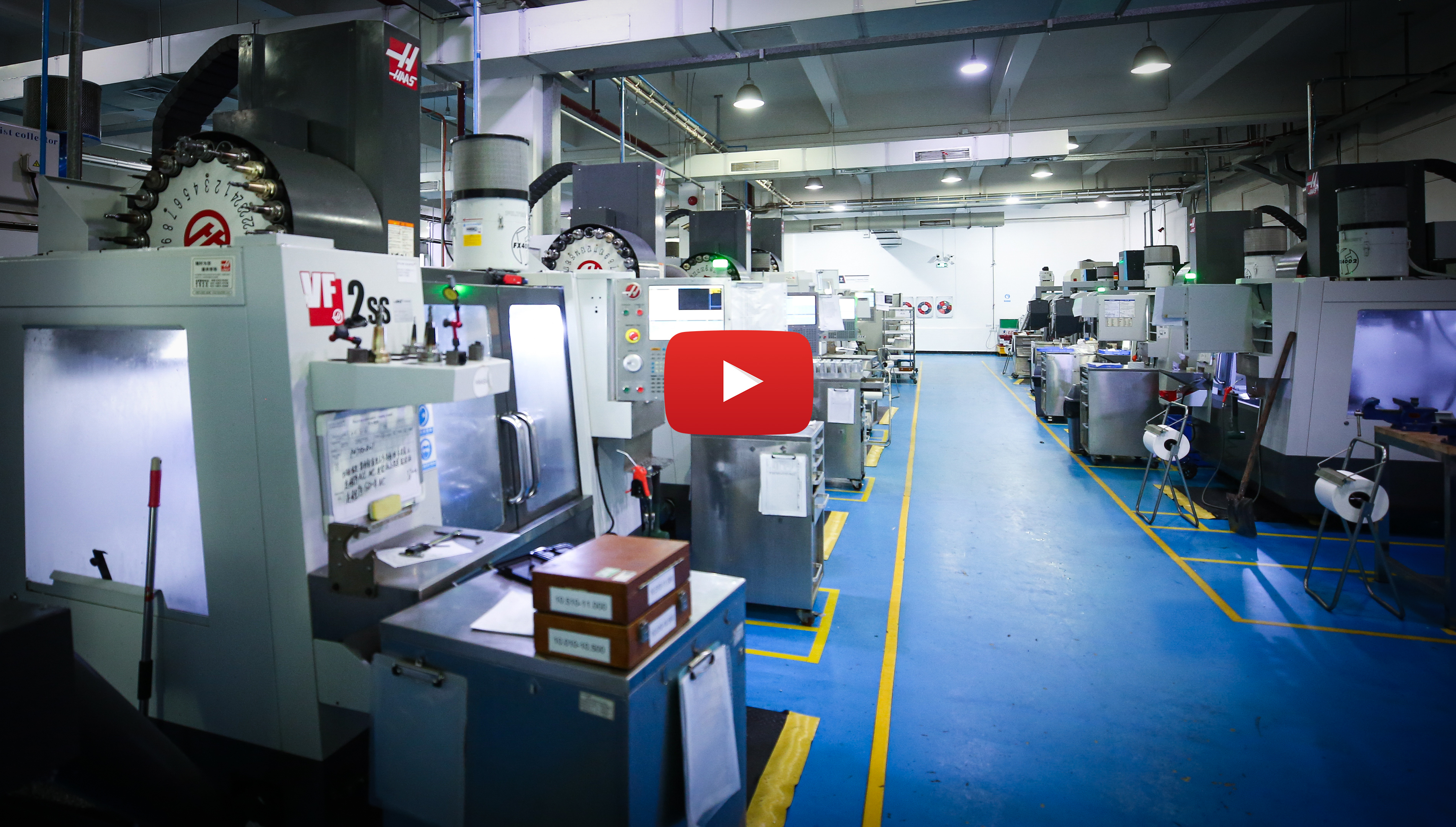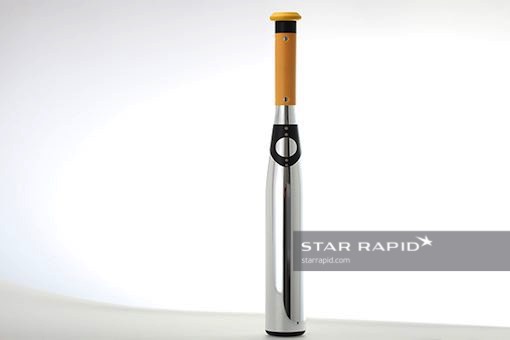 A new way to measure batter performance at the plate, the Smart Bat records stats and serves as a teaching device. Designed for kids, the Smart Bat is equipped with accelerometers that measure swing speed and position, plus an embedded wireless chip that allows each user to monitor performance, upload stats to the included mobile app, and collect prizes through school-uploaded incentive programs. Designer Nyasha Chawora partnered with Star Rapid to create a prototype that was both durable and high performing. Our rapid prototyping process included machining two separate halves from a solid block of ABS plastic, gluing them together, and then chrome-plating them to create the body of the bat. Read More.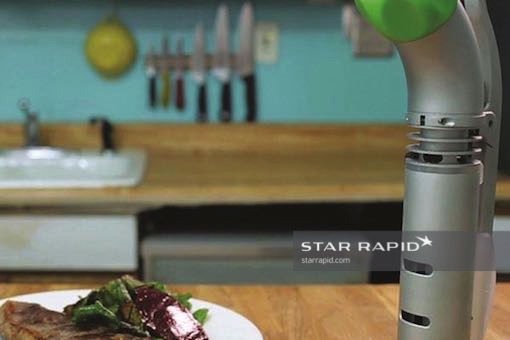 French for "without air," sous-vide is a cooking method in which food is sealed in an airtight plastic bag and immersed in a hot circulating water bath for a long period of time. Seeking to bring sous-vide to home kitchens everywhere, San Francisco startup Nomiku designed a portable sous-vide device that circulates water and regulates temperature. When they approached Star Rapid to make a prototype for their Kickstarter campaign, we got to work making a lightweight solution that securely housed the hardware with a distinctly modern look. Completed in just 5 days, our rapid prototyping process included CNC machining and vacuum casting, as well as a final round of aqua-blasting for surface texture and hand painting for color. Read More.
CNC machining is ideal for making high-quality rapid prototypes from plastic or metal without investing in expensive tooling. Your parts will achieve tighter tolerances with better surface finishes than with other prototyping methods. We can also machine all the features needed for a fully functional part, including tapped and threaded holes and precisely flat surfaces.
We have over 30 CNC mills, lathes and EDM machines in-house for all your CNC needs. We also have a multilingual support team to ensure your product development journey is smooth and worry free. Learn more about our CNC machining service.
Polyurethane vacuum casting molds create up to 30 high-fidelity copies from your original master pattern. Parts can be molded in a variety of resins, including engineering grade plastics, and even overmolded in multiple materials.
We are experts in making production quality cast copies from master patterns. Not only will you benefit from our exceptional attention to detail, but we also provide a full suite of finishing services to bring your part up to showroom quality. Learn more about what our vacuum casting service can do for you.
SLA is one of the earliest 3D printing or additive manufacturing processes for plastic. Not only are these techniques fast, but they allow you to produce complex internal features impossible to make with traditional manufacturing. We use SLA to make master patterns for vacuum casting molds.
SLA is ideal for making small volumes of finished parts or prototypes. If you need larger quantities, try one of our low volume manufacturing services.
Moving From Prototyping To Production Video
When you're ready to take your design from rapid prototyping to volume production, Star Rapid offers a range of solutions that are agile and easily scaled. Star has no minimum order volume restrictions, so our lean manufacturing services are an ideal solution for bringing new ideas to market on your schedule. Learn more about the benefits of low-volume manufacturing and how we can support your prototyping to production needs.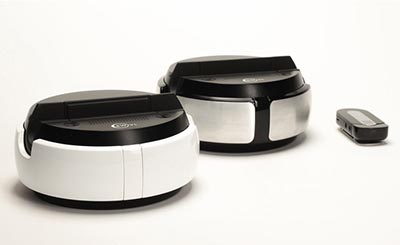 Mobile devices like smartphones and tablets are great learning tools. However, they're not always easy to use hands-free. Designed to solve the propping-up problem and provide automated rotation for any viewer, the Swivl Platform from Swivl is an excellent accessory for any mobile device user. It also features a host of tools that enable video production secure streaming for Swivl platform users. Our rapid prototyping team worked with Swivl to create a space-efficient prototype that both performed and looked the part of a high-tech device. We started by CNC machining a "master pattern," which we then used to create a vacuum-casted silicon mold. After hand-sanding, trimming, and painting, we discovered that the included remote control needed an additional screw hole. Read More.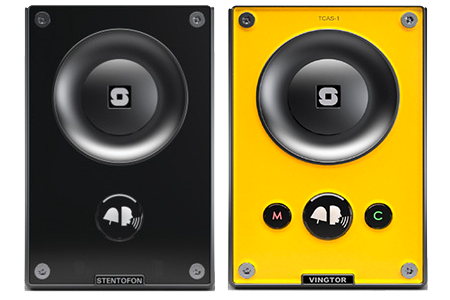 Norway-based company Zenitel designs high-quality communication devices and network services for schools, industrial facilities, and maritime environments. Zenitel partnered with us to create prototypes of two IP intercom and public address sound systems in their new Turbine series. Our rapid prototyping process included CNC machining from steel for the main housing, aqua-blasting to remove imperfections and achieve the desired texture, anodizing for a protective coating, and laser-etching to mark the front cover. Though intended solely for acoustic and mechanical testing, both the Stentofon and Vingor prototypes exceeded Zenitel's visual expectations, and the company used each prototype for promotional photography. Read More.
Star Rapid Rapid Prototyping Service FAQ
What makes Star Rapid's rapid prototyping services unique?
Our rapid prototyping services are distinguished by the wide range of complementary services we offer. These include CNC machining, vacuum casting, plastic injection molding, finishing and expert design assistance. This extensive range of services allows our team to handle every part of the prototyping process for our clients. To ensure structural integrity and functionality, we implement comprehensive material verification and testing measures.
We also have a team of International Sales Executives who can discuss your project with you in your time zone. Plus, getting a quote with us is easy. We use a state-of-the-art AI quotation algorithm for fast and accurate quote generation, and we don't require a minimum order volume or minimum dollar value for our rapid prototyping services.
What are Star Rapid's different surface finishes?
To help our clients get the ideal look and feel for their products, we offer a wide range of different surface finishes. Some of our most popular finishing services include anodizing, painting, color matching, pad printing, sanding and polishing, vapor polishing and blasting.
What are Star Rapid's quality standards for its rapid prototyping service?
Our comprehensive quality-control process includes several steps to ensure excellent finished prototypes for our clients. First, we subject all materials to a comprehensive inspection to verify their integrity. Next, we perform a series of in-process inspections and tests to verify safety and functionality. All projects are completed with Certificates of Compliance, and we offer detailed video files showing all production steps for clients who can't visit our facilities in person.
Can Star Rapid provide design services, industrial design support, or product development support as an extension of its rapid prototyping services?
Yes — we now offer an expanded service to help our customers with additional design-for-manufacturing support. Previously, this service was reserved for approved orders only, but we've extended it to incoming RFQs that haven't been accepted yet. We also offer light assembly services.
Request Your Free Rapid Prototyping Quote Today
Our improved algorithm decreases rapid prototyping quotation times by up to 90%. Most quotes are delivered within 24 hrs. and usually much less, depending on project details.
Your customer support partner will contact you directly to ensure you've received and understand all aspects of your quotation and to answer any questions you may have.
Request a Quote