Pressure Die Casting Service
Star Rapid offers a complete range of pressure die casting services. These include mold tool making, die casting, machining, polishing and plating. Our advanced inspection and test equipment ensures the quality of your raw materials and your finished parts. We invite you to experience our professional service at an unbeatable price when you send us your CAD files for a free quote.
What Is Pressure Die Casting?
Pressure die casting is the process of making high fidelity copies of your designs by injecting molten metal into custom made steel dies. It's the most cost effective way to produce medium to high volumes of metal parts with excellent surface finish and dimensional accuracy.
Advantages Of Die Casting
Castable metals include aluminum, zinc and magnesium
Mold tools can make tens of thousands of parts economically
Surface finish and accuracy are excellent
Complex geometries can be achieved
Especially suited for larger metal parts
Why Choose Star Rapid® for Pressure Die Casting?
Need to make copies of your metal product? Pressure die casting is your solution. Here at Star Rapid®, we lead the industry in efficient, high-quality pressure die casting services scalable for any organization. Here are just a few reasons why thousands of businesses worldwide choose us for pressure die casting.
✓ Services That Go the Extra Step
Our in-house services play a big role in separating our pressure die casting from the competition. We do all CNC machining in-house and we provide extensive engineering support for clients when needed
✓ Extensive Material Testing and Supervision
Ensuring the highest level of quality from start to finish, we perform extensive verification processes for all raw materials used in our pressure die casting services. We also provide 100% supervision for all casting.
✓ Intelligent and Competitive Pricing
Our pressure die casting services are among the most affordable in the industry and are typically priced lower than most US, EU and AU manufacturers. To eliminate hassle, we never require a minimum order volume or minimum dollar value. Plus, we use state-of-the-art AI quotation algorithms to get you your quote quickly, in 24 hours or less for nearly all projects.
✓ Industry-Leading Experience and Equipment
Our team has centuries of combined experience in the manufacturing industry, and we've worked with a diverse range of clients on an incredible range of products.
✓ Proven Results
Our pressure die casting services have helped countless organizations across several industries develop products that change lives. Explore the See Our Past Projects section on this page to read some of our many success stories.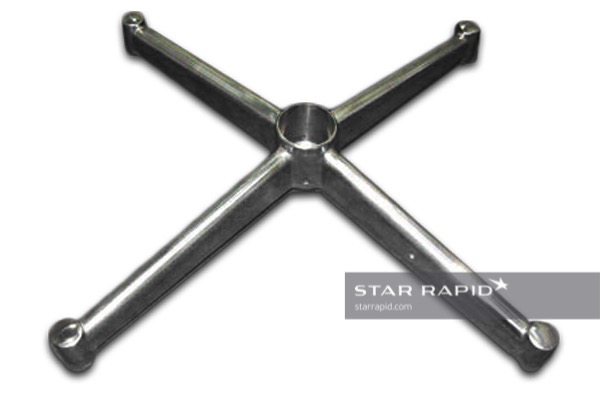 There are few things more aggravating than an unstable table. Solving the tipping and rocking problem once and for all, EasyJust is an all-purpose adjustable base designed to bring stability to any table. Tasked with making a prototype and finished product for a commercial run, our team used specialized methods to ensure strength and user-friendliness across several materials and finishes. First, we CNC machined a small run of prototypes from aluminum. Once EasyJust reviewed the prototype, we created a pressure die casting tool to do a limited production run. Learn more about our pressure die casting process for EasyJust in this case study.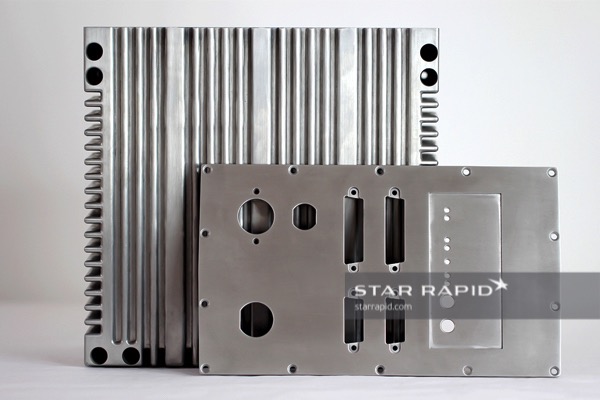 Aboard a train, communication is key. To facilitate radio correspondence in any condition of long stretches of time, all radio equipment should be securely stored in protective housing. When Swiss telecommunications manufacturer ErvoCom AG approached Star Rapid about making an aluminum case for train radio equipment, we approached the project from a perspective of security and functionality. The case needed to be strong, but it couldn't be difficult to install—and it couldn't interfere with the performance of the radio equipment onboard. To meet these requirements, we used pressure die casting to create a single casting mold from which several high-quality copies could then be produced. Learn which pressure die casting supplies we used and how we overcame the unique challenges for this project in our short case study.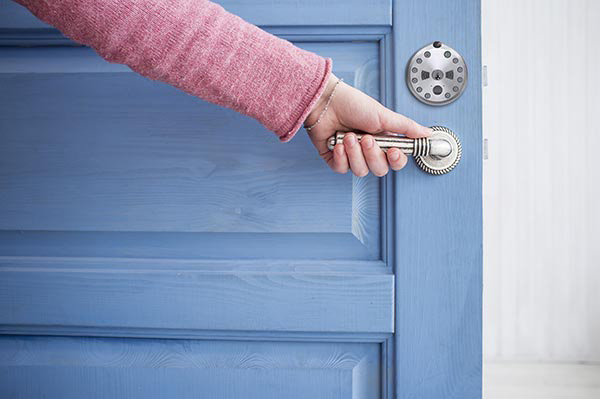 Home access should be as smart and secure as possible—but it shouldn't be a hassle. Incorporating state-of-the-art tech features to optimize safety and ease of use, the Gate smart lock is a home access solution for the 21st century. It provides keyless door entry and an onboard camera and mic that connect to the homeowner's phone via a mobile app (which can also be used to perform a number of tasks remotely). Working with Gate Labs to make the Gate smart lock a reality, our team went through several prototypes to get the functionality and the aesthetics just right. After completing a design for manufacturing (DFM) review, we used pressure die casting to create each part. Dive into our design and manufacturing process in this case study.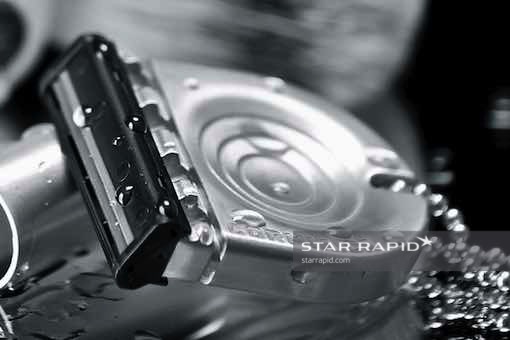 Hair growth is something that's near impossible to stop. That's where our razors come in. If you're on the road, you need a razor designed to do the job without getting in the way of your other essentials. Driven to make a more portable, travel-ready razor, Mario Cormier, the owner of Cormia Design of Canada, came up with the Cormia Unisex Travel Razor, then turned to Star Rapid to make his idea a reality. In the prototyping phase, we made pressure die casting molds from H13 tool steel using a combination of CNC machining and wire EDM to build the razor itself. For the case, we created a separate tool from an aluminum extrusion using 6063 aluminum. Among several finish options, Mario selected a satin metal finish for the case cover. Read up on our pressure die casting process for Cormia Unisex Travel Razor in this case study.
Pressure Die Casting Process
The success of your pressure die casting project depends on the quality of the mold tools, and our tool making abilities are unmatched in Asia. After we receive your order, we will:
Perform a complete Design for Manufacturing review of your CAD files.
Verify tooling raw materials for compliance.
Use our multi-axis imported CNC machine tools to fabricate the core and cavity.
Apply careful heat treating to temper the molds.
Exercise process control when casting your parts.
Provide any necessary post-machining or processing.
Professionally inspect and measure finished parts to meet and exceed your specifications.
Pressure Die Casting Tolerances
We follow the standard general NADCA tolerances. However, if your requirements are very precise, then the precision tolerances standard can be followed once we have confirmed your designs.
Pressure Die Casting Materials
Mold Tools
Our mold tools are usually made from H13 tool steel with a Rockwell hardness of 42-48. Specialty steels are available upon request. Read more about our rapid tooling service. 
Die Cast Parts
Different metals are available for casting. Your choice of materials may depend on cost, weight and performance. Here are some tips:
Aluminum is ideal for strong, lighweight yet complex geometries. It can also be highly polished. Our alloys include ADC12, A380, ADC10 and A413.
Zinc is the least expensive but is good for plating. Available alloys are Zinc #3 and #5.
Magnesium offers the best strength-to-weight ratio for higher performance applications. We offer magnesium alloy AZ91D.
Our pressure die casting engineers are ready to work with you to make sure you get great parts fast. When you submit your 3D design files, we will consult with you to ensure design for manufacturability in order to get parts that meet and exceed your expectations. Contact us for your free quote and design review today.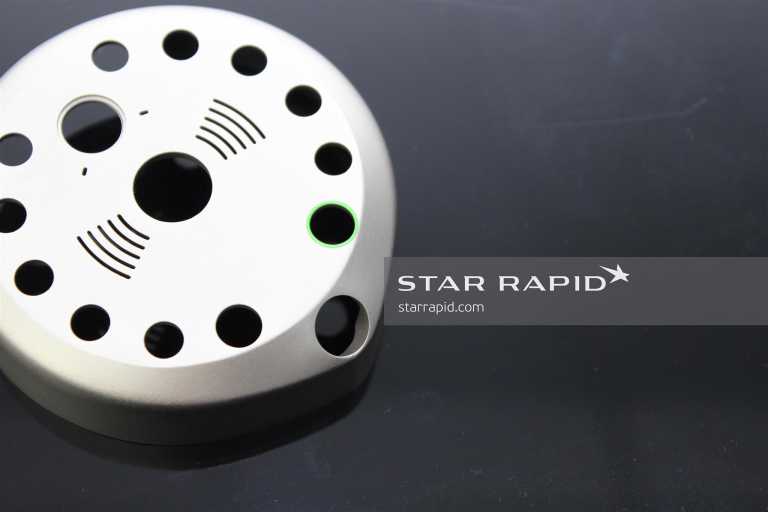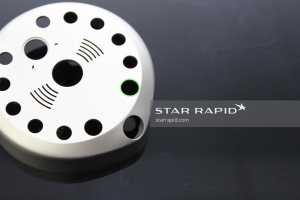 Pressure Die Casting: Further Reading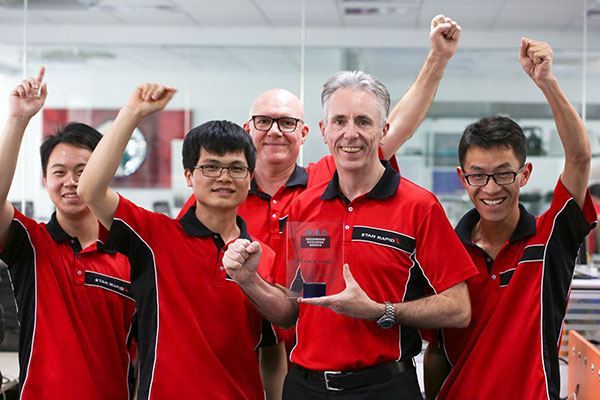 Always striving for superior results in pressure die casting, our team here at Star Rapid has earned several accolades for our manufacturing work. Most recently, we were named a winner of the 2017 BUILD Magazine Engineering Excellence Awards alongside our client, Gate Labs. The basis for our award was the Gate Smart Lock, the first all-in-one solution for home access. Equipped with a camera, microphone and cutting-edge hardware and software, the Gate Smart Lock connects with a user's smartphone to allow entry while also enabling those indoors to communicate with visitors. Read this short post to learn more about how we developed the award-winning Gate Smart Lock with pressure die casting. Read more…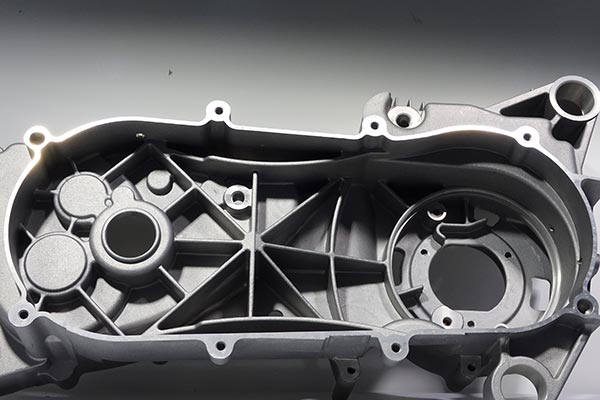 Porosity — the formation of small holes or voids within a part — can sometimes be a problem in pressure die casting. Though the risk of porosity cannot be eliminated altogether, it can be greatly mitigated with proper design, careful process control, and meticulous finishing. In this guide, our pressure die casting professionals at Star Rapid discuss the different types of porosity and how they can be controlled in the product design and production phases of a project. Read this blog to learn more about how we control and eliminate porosity. Read more…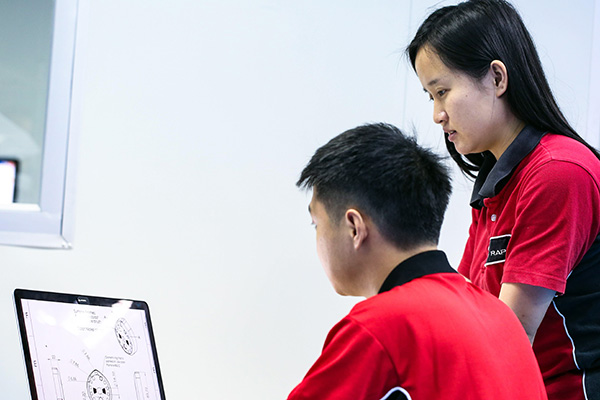 A world-leader in rapid prototyping for clients in a variety of industries, our team at Star Rapid has built our international reputation through exceptional quality and service at competitive rates. In this post, we dive into the details of one of our most successful international projects: the production of Scholl's 2-in-1 Hard Skin Remover. Designed and developed by DCA Design International Ltd., Scholl's 2-in-1 Hard Skin Remover is a handheld tool designed to soften hard skin with a rollerball at one end and remove it with three circular stainless steel safety blades on the other end. Tasked with producing 3,000 full production quality sets for pre-production testing and trials, we manufactured a suite of tools that include polished NAK 80 steel and soft P20 steel. Learn more about our process in this post. Read more…
Star Rapid Pressure Die Casting Service FAQ
What makes Star Rapid's pressure die casting service unique?
Our specialists have decades of experience making the finest pressure die castings from aluminum, magnesium and zinc. These parts are routinely used in a variety of aerospace, automotive, industrial and commercial applications. We also pride ourselves on the breadth of our finishing services, which include CNC machining, plating, anodizing, painting, EDM surfacing and many more.
Can Star Rapid provide design services, industrial design support or product development support as an extension of its pressure die casting services?
Yes. An essential part of our pressure die casting process is our expanded service geared for design-for-manufacturing support. While we once reserved this service only for approved orders, we now provide it to all incoming RFQs. We also offer light assembly services to serve your needs.
What are Star Rapid's quality standards for its pressure die casting services?
Our rigorous quality standards set our team apart from other pressure die casting services. As with all of our volume manufacturing services, the secret to getting great parts is consistency.
We verify the raw materials, control the environmental conditions during production and monitor all casting parameters. We provide Certificate of Compliance (CoC) documentation as well as final inspection and quality assurance data.
How do I get a quote for Star Rapid's pressure die casting services?
We make it easy to get a fast quotation. Simply upload your CAD files and product details and we'll send you a free quotation within 24 hrs. or less.
Request Your Free Pressure Die Casting Quote Today
Our improved algorithm decreases pressure die casting quotation times by up to 90%. Most quotes are delivered within 24 hrs. and usually much less, depending on project details.
Your customer support partner will contact you directly to ensure you've received and understand all aspects of your quotation and to answer any questions you may have.