Doppel Smart Wearable Prototype
About the Product
This project, called doppel, is a wearable device, but unlike monitoring bands or smartwatches it works with your body's natural response to rhythm to keep you calm and focused.
doppel creates a rhythmic pulse that you feel on the inside of your wrist as a heartbeat-like vibration. By affecting your brain's perception of your heart rate, doppel changes how you feel.
About the Product Developer
doppel was created by four students from London as part of their master's degree in Innovation Design Engineering. After making the first prototype as a "proof-of-concept" they realized they were on to something and now, a few years later, they have an award-winning innovation to bring to market.
About the Project
We worked with the team at doppel to help them make a series of cases and wristbands for their initial rapid prototypes using our vacuum casting service. We were really pleased to see the prototypes go on to be successfully crowdfunded via their Kickstarter campaign.
Making the Mold
To start the process we made a silicone mold, formed around a master pattern using the customer's 3D product design. Once the master mold was created we could begin making vacuum-cast copies. Master patterns can be made from any solid material, and they're excellent candidates for 3D printing in plastic, like with SLA or SLS. Master patterns need to be carefully finished, because the silicone mold does an excellent job of transferring even minute surface details to any subsequent copies. Typically molds are good for twenty or so high-fidelity copies, ideal for rapid prototyping at minimal expense. We have many other case studies showing how our technicians make silicone molds from solid masters.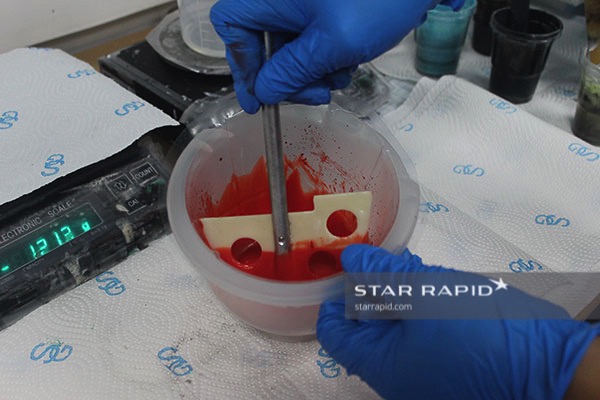 Color Mixing
To make the copies, we started with UPX-8400 casting urethane, a soft polymer that readily takes colored pigments and which can be adjusted for different shore hardnesses. Red Pantone® 7620C was added until we got the right mixture, and then this was put into the casting machine to be stirred for a full ten minutes before pouring it into the mold.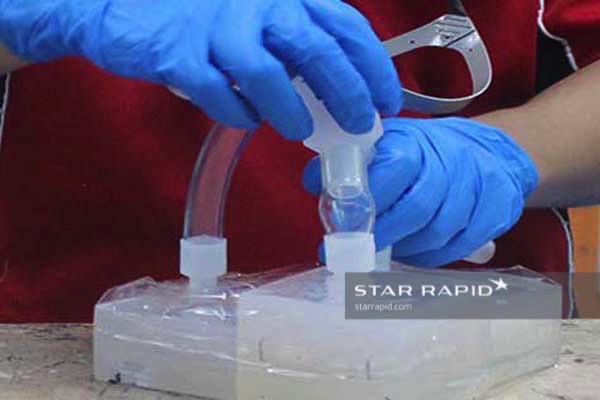 Sealing the Mold
The mold was sealed shut, and then the technician setup a series of feed tubes which fed all three cavities at once from a single pour. This not only saved time but ensured that the color was consistent between parts.
Curing
After pouring the UPX-8400 material into the silicone mold, we put it in the oven and cure it for 3 hours. In addition, negative air pressure (vacuum) is applied inside the chamber, which pulls the liquid polymer deep into the cavity, filling it completely.  Air holes were pierced into the mold uniformly around the circumference to allow air to escape freely under vacuum.
Opening the Mold
Staples were used to hold the two halves firmly in place. The two halves have been separated with a sawtooth pattern cut, which helps to later re-align them in the right orientation for any subsequent castings.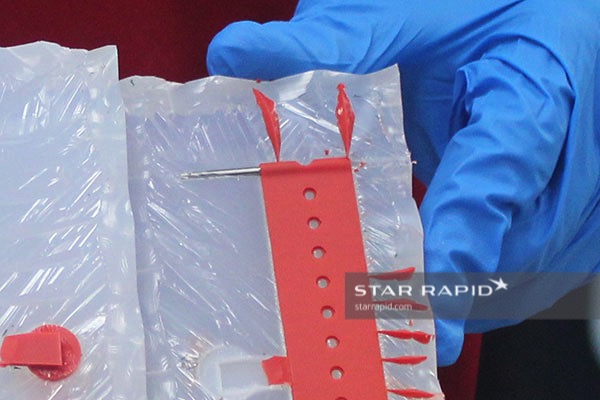 Hinge Pin
Before casting, we inserted a thin metal pin into the cavity of the mold at the top. This precisely corresponds to the location where the wristband will later be mounted to the doppel case with a pin.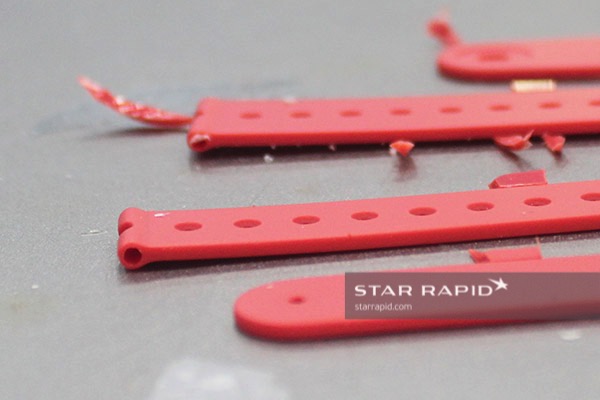 Finishing
The vent holes have allowed the polyurethane to flow freely throughout the cavity, creating a nice copy. In our model shop, we'll remove the remaining flash and clean up the outside of the piece before shipping to the customer.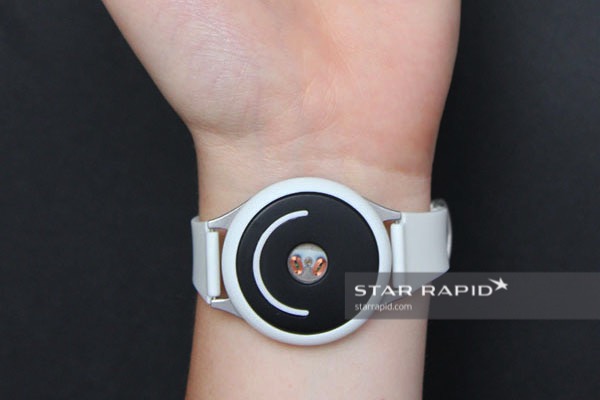 Assembly
Once assembled to the doppel case, a vacuum-cast copy is both the functional and aesthetic equal of a mass-produced rubber strap. But unlike with mass production, it's quick and easy to adjust the elasticity, color or hardness of the strap during initial product testing in order to get it just right.
What's Next for Doppel?
We were delighted to be a part of the development of the doppel and we're excited that they've experienced such success on Kickstarter. What's next for the team? Now they're about to launch their commercial version which is currently available to pre-order on their website. Good luck guys!