Plastic Enclosure for Wireless Telemetry Sensors
Materials:  Lexan 925AU-116 Polycarbonate
Color:  RAL 7035 (light grey) / Clear / Natural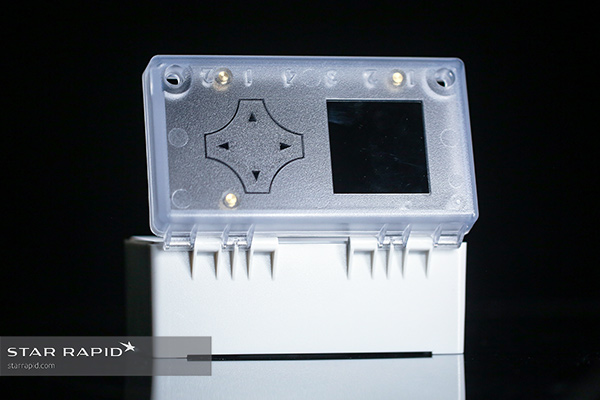 About the Client
Powelectrics Sensing and Telemetry Solutions provide sensor data and control solutions, spread across diverse sectors and applications. Powelectrics offer award-winning telemetry hardware and MetronView, a proprietary data platform, with data and alarms visible to users on any web-enabled device. 
About the Product
The Metron4, Powelectrics flagship IoT hardware device, makes remote monitoring simple and affordable. It interfaces with thousands of sensor types, taking regular readings, typically of level, temperature, pressure, humidity, vibration and energy consumptions and often for tank level monitoring and condition monitoring purposes. Data is transmitted over the 2G and 4G mobile phone networks and data and alerts delivered via the Metronview cloud.
The innovative Metron4 m2m hardware offers 4 analogue inputs, expansion cards for pulse counting and options for RS232, RS485 and CANBUS integration. With solar, battery and external power options and operational temperatures – 25 to +65°C, Metron4 is ideal in a vast range of global environments and applications.
Powelectrics customers use this reliable source of data and alarms to monitor, protect and improve the performance of essential assets and critical processes.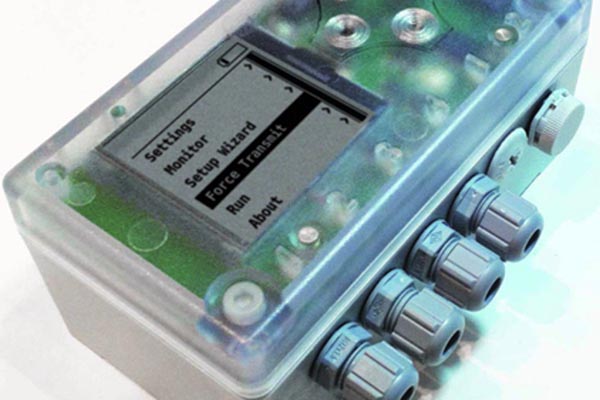 Plastic Injection Molding
We made four plastic injection molds for this project, inclusive of lid, base, and two internal dividers. All were made from the same Lexan polycarbonate but we used different pigments to chance the look, from completely transparent to a light medium-gray. 
Molding the Box
The box has a textured pattern that we applied using MoldTech photetching. 
With a heavy surface texture like this, it is necessary to increase the draft angle on the walls of the mold cavity so that the part can be cleanly released.
Molding the Lid
The lid is mostly frosted, with a clear polished window that will be used for an LCD display to be installed later.
We used hand-loaded inserts to make the hole for the hinges. We want these areas not to be filled with plastic, so we can install the hinge pin later.
How It's Built
We're proud to have worked together with Powelectrics for years to make enclosures into which they mount their electronics, display interface and power supply.
This enclosure is much more than just a plastic box. A lot of careful design engineering and manufacturing went into each one so that they can perform in the field while standing up to hard daily use. Let's take a look at some of the details that make this product so successful.
Construction
The walls of the Metron4 are 4mm thick, made from strong Lexan polycarbonate.
Here the enclosure is holding almost 60Kg, and can easily take much more.
Reinforced bosses have threaded brass inserts used for mounting internal hardware and for bolting the lid down.
Notice also the thick galvanized hinge pins make a strong and corrosion-resistant link between body and lid.
Safety
These enclosures are made from Lexan 925 AU-116. This material is UV-stabilized with excellent strength and electrical insulating properties, and also has a UL-94 VO fire safety rating.
In this test, the plastic is exposed to open flame. The resin will self-extinguish within 10 seconds after the heat source is removed. It will not drip burning plastic, and will also not outgas chlorine fumes if ignited.
Built to Last
Attention to detail and careful construction helped us to build a strong and durable enclosure that can last for years in demanding locations like construction sites, refineries, factories and power stations. (Even under a moving train!) We are helping to enable the Industrial Internet of Things, and we can do the same for your connected products when you upload your CAD files for a free quotation.