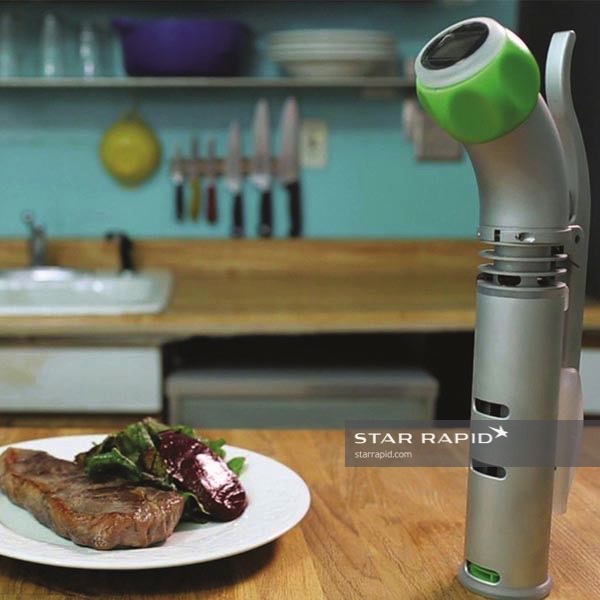 Sous-Vide Device Case Study
Job Specification:
Project: Sous-Vide Device
Processes Involved: CNC Machining, Vacuum Casting, Aqua Blasting
Lead Time: 5 days
Project Details:
Sous-vide means "without air" in French. It is a cooking method that involves sealing food in an airtight plastic bag and immersing it in a temperature-controlled circulating water bath for a long period of time. Gourmet chefs claim this method is ideal for slow cooking meats and vegetables to perfection. Nomiku was started in San Francisco to make a home sous-vide device which regulates temperature and insures a constant supply of circulating water. They approached Star to make a prototype for their Kickstarter campaign. 
How The Parts Were Made:
The entire working prototype was finished in just five days. The case was made by CNC machining and vacuum casting, then treated with an aqua-blasted surface texture and hand painted. An internal heat sink for the semiconductor heating element was made with wire EDM cutting.
Are you ready to start your next project? Contact us for a free project review.
The work Star carried out on the Nomiku device was outstanding and went well beyond our expectations of what a prototype house would deliver. They understood our vision and developed a working product that looks and feels great.
I am confident that few prototype houses have the technical capability, ingenuity and skill to have turned Nomiku's ideas into a working model in such a short period of time. We pride ourselves on not just our technical skills, but the level of service we offer each and every client – something we do with the aim of adding value and making a long lasting and positive impression on them.