CNC Turning Service
Star Rapid is dedicated to offering new product developers the most advanced precision CNC turning services to complete any project. We use only the finest machine lathes and imported cutting tools in our climate-controlled workshop. And of course careful inspection at every step ensures compliance with your specifications. 
Your CNC turned parts are further complemented with our complete in-house manufacturing and finishing services. We're proud to offer you a complete turn-key product development solution using precision CNC lathes and turning centers.
See Our CNC Facilities For Yourself
Advantages of CNC Turning
CNC lathes remove a lot of material quickly. And when using fine cutting tools such as our Guhring cutters, the surface finish is excellent and doesn't need any post-finishing. Turning is really the only practical way to make internal and external threads, long bores, tapers, ring grooves, and many other features that are essentially round in cross-section. Some of these same features can also be made on a CNC mill, but this would be slower and is not optimized for maximum efficiency.
What Kind Of Materials Can Be CNC Turned?
While potentially any solid, stable material can be turned, we work with hard plastic and metals such as aluminum, many kinds of mild and stainless steel, titanium, magnesium, brass, copper, and other alloys.
Note that some tool steel maybe too hard to cut on a lathe or mill or else will require special treatment and a longer production time. Soft elastomers or plastics may also be impossible to turn since they cannot be held in a fixed position or would change in shape under the pressure of the cutting tool.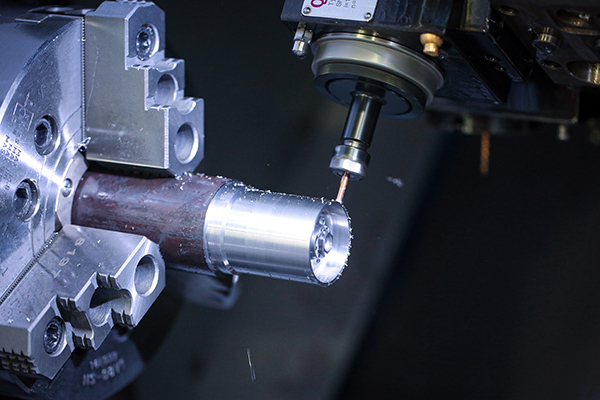 CNC Turning Services: Work With Star Rapid
When you work with Star Rapid for your CNC turning needs, you get more than just great parts. Here's what else we can offer on every project.
Industry-leading software AutoCAD and Vericut for program optimization
Imported Gühring cutting tools
Positive Material Identification on every job
ISO 9001, 14001, 45001, and 13485 certifications demonstrate our commitment to quality, safety, and environmental responsibility
International expertise in world-class manufacturing
Are You Ready To Start Your Next CNC Project?
With a range of finishing services to choose from and guaranteed quality thanks to our  inspection services you can trust you will receive great parts every time. Once you send us your 3D CAD file for a free quote, one of our customer service engineers will check your design for manufacturability to ensure that the part can be made to your expectations and budget requirements