Rapid CNC Machining Services
Star Rapid's CNC machining services offer you a comprehensive rapid prototyping and new product development solution. We have a full suite of advanced equipment to provide multi-axis milling and turning as well as sink and wire EDM, surface grinding, laser engraving and much more. We also ensure complete regulatory compliance of all raw materials using sophisticated analytic testing equipment. Find out why we are a preferred supplier to world-class companies to help them make their most sophisticated CNC machining projects a reality. 
CNC Machining – What Is It and Why Do You Need It?
CNC machining is a broad manufacturing category that includes many different computer-controlled processes where raw material is selectively removed in exact amounts to produce a near-final shape. That's why it's considered subtractive, as opposed to additive manufacturing or 3D printing. Standard CNC machining processes include milling, turning, surface grinding and electrical discharge machining (EDM) although there are other specialized applications. Whenever a machine is digitally controlled there must always be a 3D CAD file of the part design which is used to program the machine's movements.
CNC machining is used on many common metals such as aluminum, brass, mild and stainless steels, magnesium and titanium. It can also be used on rigid or engineering-grade plastic resins. We employ it every day to make not only finished parts but also tools and dies that are used for plastic injection molding and pressure die casting.
Because of the reliability and precision afforded by modern tools controlled with sophisticated software, CNC machining is an ideal rapid prototyping and production volume solution for making complex end-use parts with very tight tolerances.
One of the great advantages to CNC machining is its versatility. It is highly flexible and adaptable to many shapes and sizes of parts, and because there is no need for fixed tooling one part can be made just as easily as one thousand. CNC machined components are full strength and they have excellent surface finishes. You can choose to put them into service immediately or they can be further processed with additional treatments such as plating, polishing, anodizing, painting and more.
Curious as to how a CNC machine works? Interact with our diagram below to learn more about the main features of a CNC milling center.
Advantages Of CNC Machining Services For Product Developers
CNC machining services at Star Rapid have many advantages for product development that can make it the ideal solution not only for rapid prototyping but also for volume production. Here is what you should consider.
Quick removal of large amounts of metal as well as engineering-grade plastic resins
Highly accurate and repeatable
Excellent for making complex geometries
Versatile
Suitable for many different kinds of substrates
Scalable volumes from one to 100,000
Low investment in tooling and preparation cost
Fast turnaround
Parts are full-strength and can be put into service immediately
Excellent surface finishes
Easily customized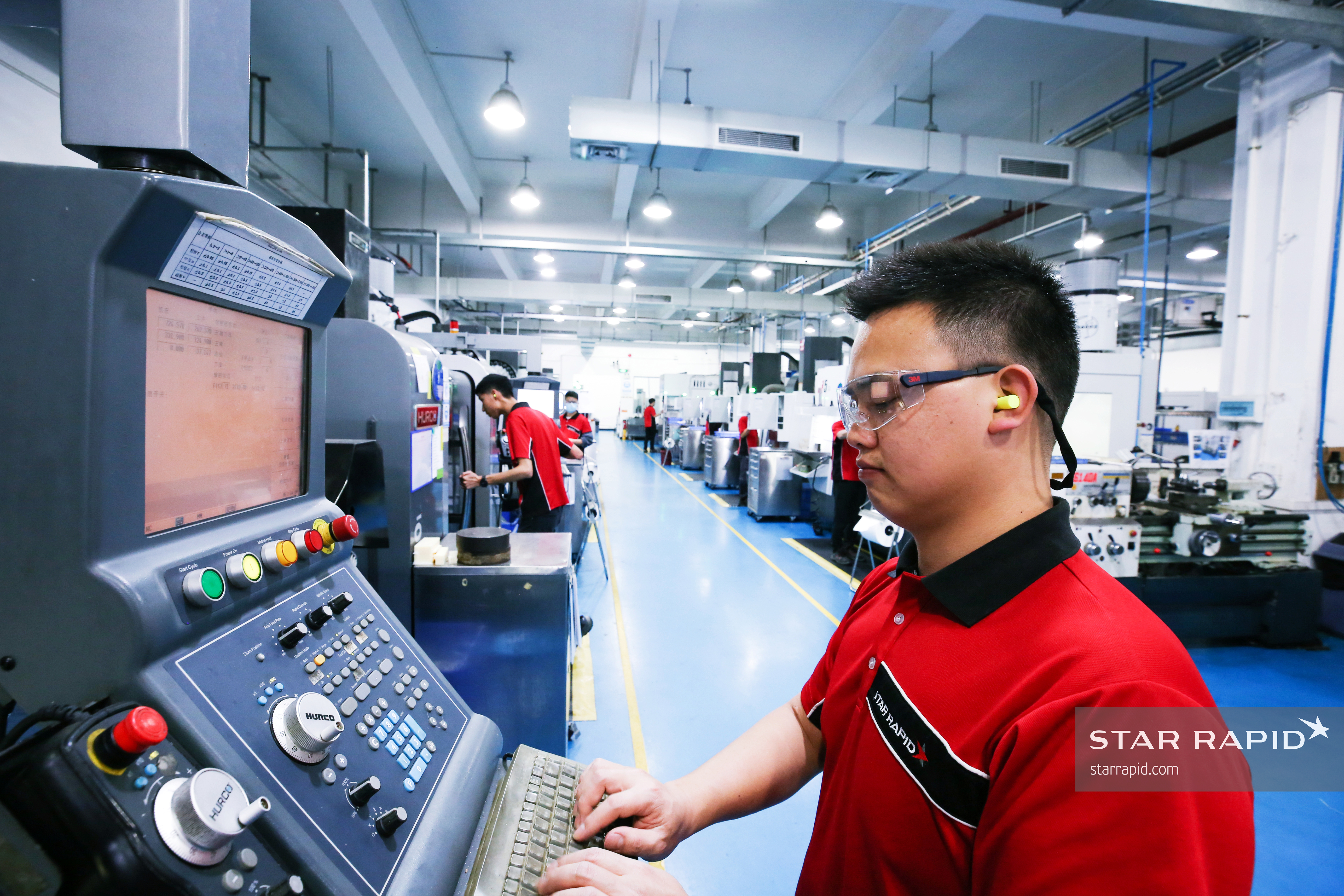 CNC Machining Raw Materials
We work with a wide range of plastic and metal materials including magnesium, mild and stainless steel, aluminum, brass and titanium as well as rigid engineering grade plastic resins. These materials are part of our standard inventory and can be sourced for immediate availability from reliable vendors who have been thoroughly vetted and approved by us. In addition we can also provide specialty materials such as super hard alloys – just talk with our engineers to learn how we can meet your needs.
Most importantly, to ensure that your parts meet all regulatory requirements we have an incoming materials inspection lab where we use sophisticated analytic testing instruments using Raman spectroscopy to confirm the exact chemical and physical properties of all raw materials. We leave nothing to chance for your peace of mind.
CNC Machining Video | Star Rapid
CNC Turning Services
Star Rapid's CNC turning services employ imported, high-speed turning centers with live tooling and automatic bar feeders. Live tooling using imported Gühring cutters lets us perform some milling and cross drilling functions without needing multiple machine set-ups, saving time and money. We routinely turn brass, aluminum, mild and stainless steels as well as rigid plastic. Our CNC turning services create complex external geometries and internal bores with very tight tolerances and excellent surface finishes. CNC turning is suitable for rapid prototypes, new product introduction and low-volume production.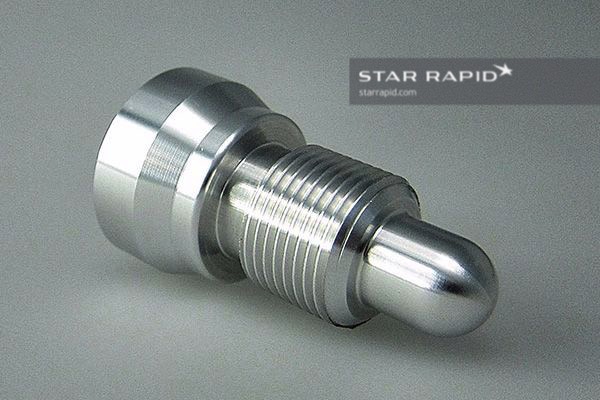 CNC Milling Services
CNC milling services at Star Rapid use imported, multi-axis machine tools controlled with advanced PowerMILL and Vericut software. High-speed milling is ideal for creating prismatic shapes and complex geometries in a variety of brasses, mild and stainless steels, aluminum, titanium and rigid plastic. Advanced Gühring endmills and cutters, as well as European management expertise, provides you assurance that your parts will have tight tolerances with excellent surface finishes. 
In addition, Star Rapid has no minimum order volume restrictions, so our services can be used to produce one-off prototypes, bridge production or for medium to high volumes. And of course we have a complete range of in-house finishing services for even more product development solutions.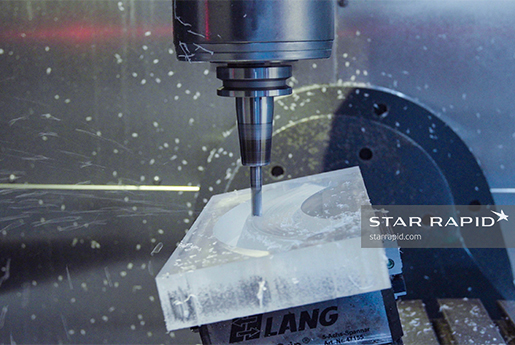 EDM / Wire EDM And Surface Grinding
EDM (electrical discharge machining) is a method for cutting holes, pockets and other shapes into hardened steel, as well as imparting a surface texture to the internal cavities of mold tools. A sacrificial electrode in an electrolyte bath discharges a high-powered electric spark to erode very hard materials that would be difficult or impossible to do with any other method. Square pocket holes are often created with this method. With wire EDM, a wire is continuously fed between two spools. When electrically charged, it's able to cut through hardened tool steels quickly and accurately.
At Star, we also offer surface grinding services. When surface grinding, the workpiece is held stationary on a horizontal plate. The surface grinding wheel is computer controlled to abrade the workpiece to a precise depth.
Our general tolerances for CNC machining of metals is DIN-2768-1-fine and for plastics, DIN-2768-1-medium. Tolerances are greatly affected by part geometry and type of material. Our project managers will consult with you on every part of your project and will seek to provide the highest degree of precision possible.
We make hard tooling (cores and cavities) from a variety of materials to suit your budget, order volume and schedule. We routinely make production-quality tools from P20, NAK80, S136 stainless and H13 semi-hardened steel for volumes up to 100,000 pieces. Specialty metals can also be ordered on request. Learn more about our rapid tooling service.
Why Choose Star Rapid for CNC Machining?
Star Rapid's CNC machining services are second to none. Take a look at some of our company highlights to see why we're the easy choice for small and large CNC machining projects.
✓ Industry-Leading CNC Manufacturing Equipment and Materials
Our imported 5-axis CNC machining centers make turned and milled parts from a wide range of plastic and metal materials. We use industry-leading software like Autodesk PowerMill and CGTech Vericut, and we have over 14,000 genuine Guhring cutters in stock.
✓ A Proven Track Record
We can easily talk about our team's experience and performance, but one of the best ways to show the superiority of our CNC machining services is to let our work speak for itself. Scroll down to our "See Our Past Projects" section to learn more about some of our thousands of success stories.
✓ Extensive Material Verification and CNC Testing Services
Our uncompromising testing processes are a big reason why our CNC machining services are a cut above. We start with raw materials which are subjected to a comprehensive inspection to verify exact chemical composition and hardness. (Certificates of Compliance for all materials are available upon request.) Once CNC machining begins, we perform in-process tests to ensure that each part is produced exactly to client specifications.
✓ Everything Is In-House, Even Finishing
When we say we control quality at every step of the CNC machining process, we mean it. That's because we complete all CNC machining in-house at our facilities. We offer a wide range of finishing options, also applied in-house.
✓ Intelligent Pricing for Every CNC Machined Project
Your time and budget matter to us. We never require a minimum order volume or minimum dollar value, and use state-of-the-art AI quotation algorithms to get you fast, accurate quotes — almost always in 24 hours or less.
CNC Machining Quickfacts
Why choose CNC machining?
CNC machining is a fast, accurate and versatile solution for making production-quality parts in any quantity, without the need for investing in hard tooling or expensive set-ups.
What raw materials can I use with CNC machining?
Finished parts can be made from many types of easily available stock metals including mild and stainless steel, aluminum, brass, copper, magnesium and titanium. We can also machine rigid plastics. Check out our list of frequently used materials. 
What tolerances can I achieve with CNC machining?
We routinely produce parts to .05 microns, which is suitable for the majority of commercial and industrial applications. Closer tolerances are only advised for critical applications – they will take longer to produce and will increase processing costs.
With a range of CNC finishing services to choose from and guaranteed quality thanks to our inspection services you can trust you will receive great parts every time. Once you send us your 3D CAD file, one of our customer service engineers will check your design for manufacturability to ensure that the part can be made to your expectations and budget requirements. Contact us today for a free quote!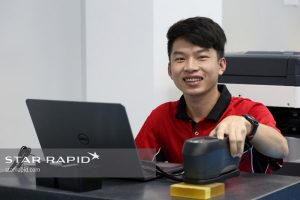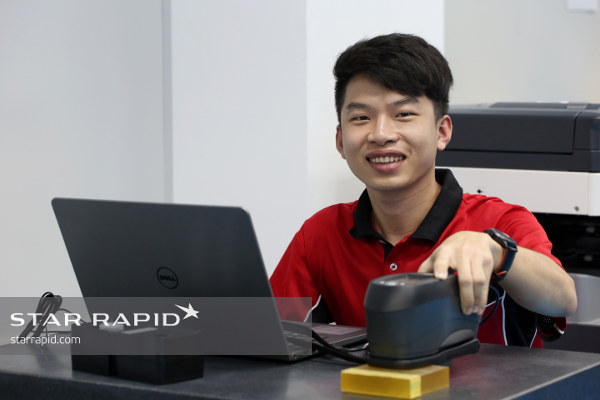 Star Rapid CNC Machining Service FAQ
What makes Star Rapid's CNC machining service the best in the industry?
To deliver the industry's finest CNC machining services, our team combines decades of expertise with the world's most advanced equipment. We use imported 3, 4 and 5-axis CNC machining centers to make turned and milled parts from an extensive selection of plastic and metal materials. We also offer a wide range of CNC machining services, including milling and turning, EDM and wire EDM, surface grinding and more. Our material verification standards are superior to many of our Asia-based competitors, and we proudly offer fast and smooth correspondence, manufacturing, and delivery.
Is Star Rapid's CNC machining service in-house?
Yes — our team completes all CNC machining at our facilities. This gives us a much higher level of production control in comparison to companies that outsource machining.
What are Star Rapid's quality standards for the CNC machining service?
Our in-depth CNC machining quality-control process is just one of the many reasons why thousands of businesses worldwide choose us for their production needs. This process starts with incoming materials, on which our staff performs a comprehensive inspection to verify integrity and performance. During production, we also perform in-process inspection and testing to make sure each part is produced exactly to your specifications.
How does CNC machining work with plastic injection molding and pressure die casting?
CNC machining is used to make tools for plastic injection molding and dies for pressure die casting. CNC machining is also used for post-processing steps, including drilling holes, tapping threads and more.
Request Your Free CNC Machining Quote Today
Our improved algorithm decreases CNC machining quotation times by up to 90%. Most quotes are delivered within 24 hrs. and usually much less, depending on project details.
Your customer support partner will contact you directly about your CNC machining quote to ensure you've received and understand all aspects of your quotation and to answer any questions you may have.
Request a Quote