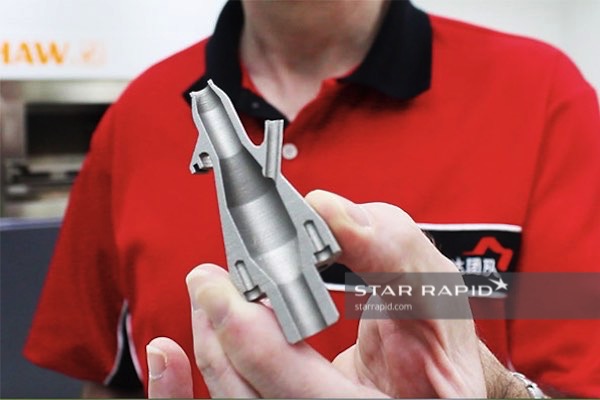 What Is Metal 3D Printing?
Metal 3D printing is a revolutionary technology that produces impossible-to-make parts directly from CAD data. Advantages to this process include the ability to produce strong, complex geometries, internal lattice structures, conformal cooling channels and other features that cannot be made with traditional machining. Parts can be made quickly with a minimum of material waste making them ideal for next-generation engineering in aerospace, medical, automotive and other industries.
One of the main 3D printing processes is called Direct Metal Laser Melting (DMLM). This additive manufacturing process uses a high-powered laser to melt and fuse successive layers of powdered metal into three-dimensional solid parts. The advantage is that the more complex or feature rich the component, the more economical the process becomes. Direct Metal Laser Melting creates parts that are 99% dense, meaning they are as strong as forged pieces while being lighter.

Advantages Of 3D Printing
There are many benefits for 3D printing, especially if you know how to optimize your product design to take advantage of them. Benefits include:
Metal 3D printed parts are fully dense, incorporating complex geometries and precise internal features that cannot be made with traditional machining alone.
Designs can be made quickly with a minimum of material waste while maximizing strength.
Conformal cooling channels greatly improve performance and resistance to thermal stress, ideal for aerospace and automotive applications.
Multiple, identical parts can be built on a single platform at one time, greatly increasing production efficiency
Metal 3D Printing Process
First a 3D CAD file must be provided for the design. In order to achieve the best results, it's essential that engineers review your CAD drawing file in advance and optimize the design wherever necessary. This may include optimizing build orientation and adding support structures to areas where the force of gravity can cause features to distort during the printing process. These supports will later be removed.
Specialized software should then be used to slice the drawing into multiple cross-sectional layers, with each layer representing a 20 – 60μm thickness of the final shape. Finally, the sliced file should be uploaded into the machine to be printed. An example of the kind of machine best for this work is the Renishaw AM250, a state-of-the-art metal 3D printer for rapid prototyping and manufacturing.
Post-Machining Services
Many people are excited by the new possibilities of 3D printing, and for good reason. However, despite being able to make complex designs possible, there are still some inherent limitations. 3D printing is not ideal for making fine surface finishes, accurate holes, threads or flat smooth mating surfaces.
Metal 3D printing almost always requires some form of post-machining to provide features that 3D printing alone cannot. Excess material is usually removed by CNC milling and turning, drilling or grinding. Star Rapid have a range of other finishing processes to ensure that you get the final look you want.
What qualities should you look for in a 3D printing service provider? 
Depth and breadth distinguish the best metal 3D printing service from others in the industry. Using a state-of-the-art machinery, like the Renishaw AM250 printer, the service provider can successfully produce impossible-to-make parts directly from your CAD data. The service provider should also offer 3D metal printing in several materials, including titanium, stainless steel, maraging steel and aluminum. Ensure that there are rigorous quality standards in place. They should start during reviews of submitted CAD files, where designs are analyzed and suggestions provided for improvements, if necessary. If using a Renishaw printer, all metal powders should be sourced from Renishaw and be formulated specifically for the printer.
Technical Guidance for 3D Metal Printing
Metal 3D Printing Tolerances
The general tolerance for metal 3D printing is +/- 0.5mm. However, it is significantly dependent on the geometry of the part being printed. Check out more guidelines to follow when designing for metal 3D printing.
Metal 3D Printing Materials
Common 3D metal printing materials are titanium, stainless steel, maraging steel and aluminum. Each material has unique advantages relating to mechanical performance, weight, corrosion resistance and more. There are also economic costs to consider for your application and budget.

Metal 3D Printing Specifications
| Basic Info | Details |
| --- | --- |
| Max Part Size | 245 x 245 x 290 mm (width, length, height) |
| Minimum Wall Thickness | 0.5 mm |
| Minimum Gap / Clearance | 0.5 mm |
| Minimum Diameter | 0.5 mm |
| Tolerances | 0.5 mm |
| Surface Roughness (as built) | Ra 4~10 for Ti64 and SS316L, Ra 30~40 for AlSi10Mg, Ra 6~10 for Maraging Steel |
Metal 3D Printing Machines
| # | Brand | Model | Type |
| --- | --- | --- | --- |
| 1 | Renishaw | AM250 | 200W Laser |
Metal 3D Printing Resources
Video: Learn How to Design for Metal 3D Printing
Many people run into issues when designing for metal 3D printing, so we made some online tutorials to help you learn the basics.
Blogs and Articles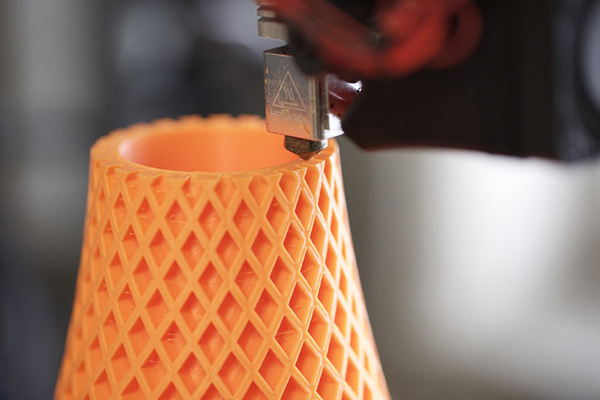 3D rapid prototypes can be made in a variety of ways, each with its own unique characteristics and benefits. In this guide, our team discusses the top 7 methods for making 3D prototypes: stereolithography (SLA), selective laser sintering (SLS), fusion deposition modeling (FDM), selective laser melting (SLM), laminated object manufacturing, digital lighting processing and binder jetting. Read more…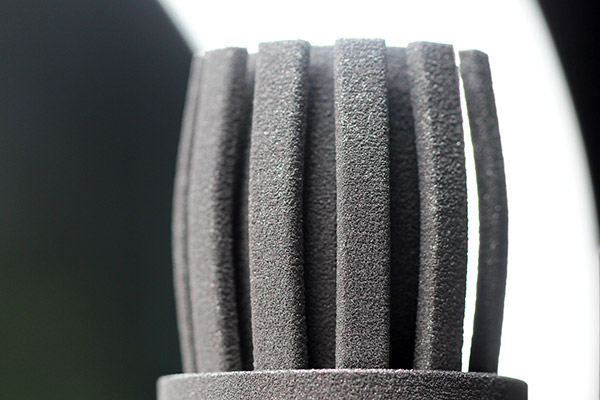 One of the most common misconceptions in the world of 3D printing is that the same CAD design can be used for either plastic or metal. This is not true. Metal and plastic have different properties, and the design process for each material varies in a number of ways. In this guide, we dive into the design differences between plastic and metal 3D printing to help you get a better understanding of each process. Read more…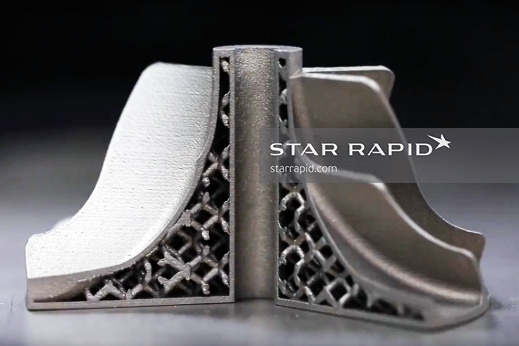 With 3D metal printing, you can create an endless array of designs for applications ranging from the aerospace field to the medical profession. To ensure that your 3D metal printing project is a success, it's important to adhere to certain engineering and design rules. In this guide, find design tips and more to help you get the most out of your next 3D metal printing project. Read more…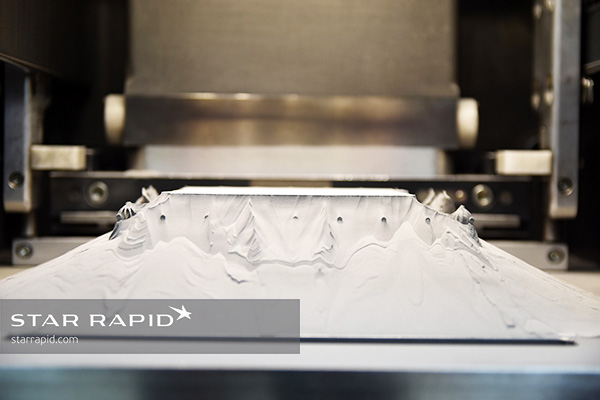 There are so many new and emerging technologies being developed for metal 3D printing that it can be hard to keep up with a dizzying array of acronyms, machines and applications. One of the most common types of metal 3D printing being used at the moment is powder bed fusion. Here's what you need to know. Learn more about powder bed fusion, how it works and why it's beneficial for many projects. Read more…
Example 3D Metal Printing Projects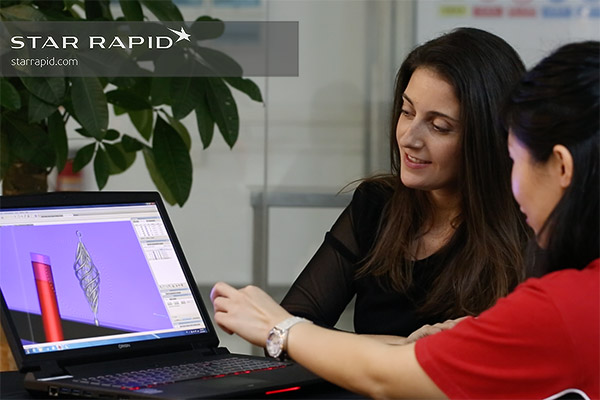 New-York-based jewelry designer and goldsmith Veronica Nunes takes inspiration from nature and architecture to create flattering pieces for her jewelry brand VNunes. When she came to us to make her creations come to life, we used our metal 3D printing service to input her intricate designs and output meticulously-shaped finished products. We worked closely with Veronica to fine-tune her designs for maximum aesthetic appeal and structural integrity, focusing on several specific areas, including wire detailing, blade detailing, overhang, and moving parts. Read our case study to learn more.
All injection mold tools must be cooled to maximize efficiency and ensure consistent product quality. Traditionally, these tools have been cooled using linear paths, which have their limitations in terms of cooling effectiveness. To improve the results for a water reservoir for Marco Beverage, we made new molds using conformal cooling paths that "conform" to the shape of the mold itself and maximize cooling efficiency. These new 3D-printed metal parts reduced cooling time by as much as 60% over identical molds with traditional cooling paths. Explore the details here.